Navigation:
Home
> West River Adventures South Dakota Pheasant Hunting | Timberlake, SD
West River Adventures South Dakota Pheasant Hunting | Timberlake, SD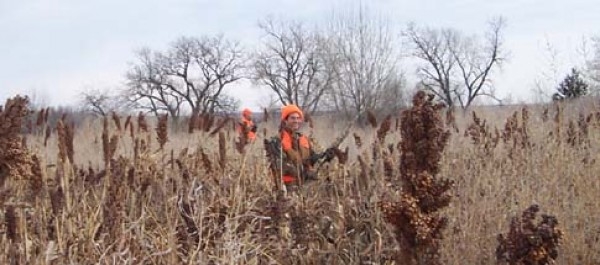 West River South Dakota not far from the beautiful Missouri breaks area. West River Adventures Pheasant Camp has a huge abundance of CRP and wildlife to offer. If you are looking to hunt a variety of upland birds look no further. Pheasant and Sharptail Grouse abound. Occasional Hungarian Partridge may be encountered as well. Prairie Dog hunting and predator hunting are included with your upland bird hunt package. Get a taste of the WILD West and Big Sky Country! Please review links, video and testimonials below to get a great idea of what this pheasant camp is all about.
West River Adventures Pheasant Camp:
2 Hunt Package Options

4-Day Hunt - Minimum 8 or More Hunters for 5-Nights Lodging, Or
3-Day Hunt - Minimum 11 Hunters and up for 4-Nights Lodging

This Outfitter is a Pheasants Forever Life Member
3834 +/- Acres total. 1450 acres of CRP for prime pheasant hunts.
100 acres of food plots planned per season.
1.5 hours west of Aberdeen SD - Dewey County
Group sizes up to 17, 2 lodges, 4 bathrooms, 10+ hunters can use both facilities
Highlights: More land than you can hunt. Sharptail, Pheasant and Prairie Dogs included in package. Free use of of Yamaha Rhino and 3 other ATV's. For fly-in hunters West River offers airport pickup and use of SUV at no extra charge (Fuel charges will apply).
Heated enclosed dog kennel - 12 X 16 right outside lodge.
Shoot Prairie Dogs in your spare time. No extra charge.
Spacious modular main lodge that sleeps 12. If you have 10 or more hunters you can utilize both lodges for your group
Spacious Pheasant Hunters mobile home over-looking a very quiet remote private setting.
4 spacious Full Bathrooms
Sink, Stove and Fridge and compliment of cooking amenities
Dining table and chairs
Satelllite HDTV
BBQ Grill on large deck
Lodging Comfortably accommodates group sizes up to 17
West River Adventures Hunting Video
West River Adventures Pheasant Camp Reviews:
"Chris, just wanted to fill you in on another great experience at a UGUIDE camp. Our opening weekend hunt at the West River property left absolutely nothing to be desired. I must admit that I was a bit concerned about the number of birds we would see after reading the survey reports from the Game, Fish and Parks and realizing that all of the crops were still in the fields due to the recent wet conditions. Those fears were quickly put aside as we saw hundreds of birds each of our three days of hunting at West River. Our 13 man group downed our allotted 39 birds each day despite the difficult hunting conditions (VERY wet and quite windy). During our return trip home, members of our group talked to a lot of different hunters and we heard very few stories of hunters bagging their daily limits - much less downing 13 man limits for 3 straight days!
The hosts were fantastic. They joined us for dinner at the lodge the first night we were there and immediately fell right in with the group, getting to know everybody and telling us tales that had us all in stitches until fairly late in the evening. As for accommodations, the lodge was just right. There was ample room for our entire group (and would have been ample room for several more, if we had them), everybody had their own bed, the kitchen was large and well stocked (we cooked breakfast and dinner at the lodge each day we were there), the dog kennel area was perfect for our pack of Vizsla's and GSP's, and the recent renovations Ron made to the lodge worked out really well. We all had nothing but positive memories to reflect on during our respective drives back to Louisiana and Texas. As evidence of that, our entire group has informed me that they would like to re-book, so count us in for Week 1 next year and, hopefully, for many years to come".
Matt-LA
"Hi Chris, our Idaho group had yet another great hunt at West River last week. The host is truly a wonderful host with great property and plenty of birds. From the reports we were expecting less birds but found that not to be the case. The abundant amount of CRP land with grass that was deep and heavy this year seemed to hold the birds better and was great for our pointing dogs. We limited our group of 11 and also shot a number of sharp tail grouse, 9 on the first day. We had 3 excellent retrieving dogs and lots very few wounded birds. Please reserve us for West River again next year for the same week 3. I expect a group of at least 10 again. Thanks!"
Randy - ID
"Hi Chris, just wanted to pass along a note to you about how amazing our hunt was at West River Adventures for week 9. Bird numbers were truly mind numbing. Since this was our first trip to one of your camps, I wasn't quite sure what to expect. WRA and the hosts did not disappoint. The owner was very helpful in getting us on birds and the camp and facilities were exactly as promised. It was the perfect setup for our group of 10. We wanted a trip were we could go and hunt as we wanted, when we wanted. That is exactly what we got to do. We easily saw 5000 birds during our trip. I would love to re-book for next year, but do to other obligations and plans we will not be able to go next year. When we do make another trip however, I certainly will be contacting you again. Thanks again for the great experience."
Erik - WI
"Chris, just a note to let you know our group of 15 had a great hunt at the West River property. There were 1000's of birds (getting smarter every week) and the challenge was in the pushing, blocking and flanking techniques employed to get shots at the birds. We killed limit two days and could have easily the third day had we not decided an afternoon of watching college football was a good way to end a wonderful three day hunt. The hosts had the place immaculately clean and we did not even hunt a couple of the parcels available this year. You can count on us re-booking for next year and we will make our initial deposits when the time comes."
Paul - NE
"Chris, the hunt was great as it was last year. I would say the birds were down just a bit from last year, but really not a huge notice. We had a group of 12 and limited out each day in a couple of hours. Ron planted Millet food plots in the field east of his house and from a avid pheasant hunter, I don't think the pheasants liked it as well as the Sorghum that he had there last year. The sorghum of last year provided more cover for them. If you could pass that on to him on behalf of the hunters that would be great. We plan to re-book again for next year. Enjoy! Take care."
Brent - IA
"Chris, I have to tell you, I have hunted pheasants in numerous states as well as several locations in South Dakota, and I have never hunted a place as good as West River. The hosts were gracious and we all got along with them and we hope they felt the same about us. I will try to send you some pictures if I can figure it out. We are already looking forward to next year. Have a great Holiday season!"
Steve - CA
"Chris, I just wanted to make sure you and (property owner) were aware of the truly awesome experience we had at West River Adventures hunting for pheasants. In our group of 9, only one of us had been to South Dakota hunting pheasants before this experience. On our trip from Iowa, once we got past the local town, we began seeing pheasants everywhere. This really got our heart rates up after the long drive. In Iowa we hunt most weekends and rarely see birds while traveling. Upon pulling up to where we would be staying, we immediately noticed a new modular home next to the older trailer. We called the hosts and he notified us that this new home would be where we were staying. Everything about the lodge was way above our expectations. The pheasants were constantly calling in the fields behind us just teasing us. The hosts made it over to welcome us, had a drink with us, and hung out for a bit answering our eager questions. He is truly a genuine and personable guy. The hunting the next three days was beyond my wildest expectations. We saw hundreds of birds and had no problems getting our limits each of the days. A couple of us shot our first triples while on this trip. I walked a shelter belt with my video camera and no gun just to record what we were seeing. I walked one and upon further review watched 87 birds fly out in a steady stream in from of me well within gun range. After showing this footage to friends back home, they are begging me to let them tag along next year-which we will definitely be back. Thanks for the great experience."
Brent - IA
"Hey Chris, we had another great hunt with the hosts. Unbelievable bird numbers that appeared up from last year if that could be possible."
Jim
"Hi Chris, I wanted to let you know the trip to West River Camp Week 10 went great. We were very lucky with the weather and there were plenty of birds, we did very well. The hosts were great and we enjoyed their hospitality and company very much. We are talking it over whether to re-book that week or try for another. We will be in touch. THANK YOU VERY MUCH!"
Greg - WV
The hosts were great and their operation here at West River is first class. We expect to re-book here next year!"
Randall - ID
"Chris, we are definitely re-booking. Hunt was great, he hosts out-did themselves, new bathroom really made morning & evening showers wonderful!"
Terry - AR
"Just wanted to drop you a quick note relaying to you how enjoyable our hunting trip at West River Adventures. We have been going here for few years now and the hosts are wonderful. They have a great place to stay and hunt. Birds were plentiful as always. We thank you and look forward to hunting with them again next year!"
Chris - AR
"The hunt went well, I think bird numbers were up, weather kind of dictated success, but saw some good dog work, my boys had a great time. The trailer worked out great."
Terry - AR
"Chris, the hosts were great people. We spent our mornings and afternoons scouting the properties and the majority of them looked phenomenal. We easily saw in excess of 5000 birds during these drive arounds. We actually never saw another pheasant hunter in the three days we hunted West River Adventures and probably heard less that five distant shots being fired."
Paul - NE
"Chris - What a hunt! We had a great time. The birds made us work but they were out there. We limited out on pheasant everyday! We seen groups of over 50 roosters at a time. I took 1 pheasant home to stuff with a 32" tail feather. You felt like you new them (the hosts) all your life! Great folks! The accommodations were comfortable clean. Everything you might need plus more. They put work into making sure we were comfortable. October could be my new favorite month. Good people, lots of pheasants(grouse were fun too) and the World Series all at the same time. Thanks!"
Jeff - CA
"Chris- My group had a great hunting at the West River Adventures Camp. We had a great time hunting prairie dogs too which a lot of the guys had never hunted before. We found that the lodging comfortably accommodated our group of 10. We enjoyed the challenges behind getting our limit of pheasants each day."
Tim - MO
Request InformationNeed help or a recommendation?
Click here to fill out our quick form.