Navigation:
Home
> Reviews - References - Testimonials
Reviews - References - Testimonials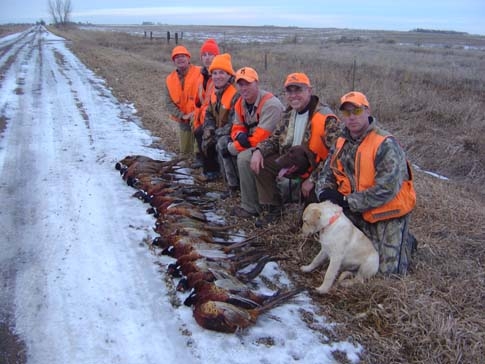 The following are reviews and testimonials from all UGUIDE camps.
Please see the main page of each camp to see reviews specific to that pheasant camp.
"Hello Chris, I wanted to follow up with our results for Meadow Creek week 5. The property was far better than we could have expected. The habitat and number of birds was just fantastic. With the abundant pheasants, sharp-tailed grouse, and huns, there was no shortage of hunting. The entire group spent all day hunting until almost sunset each day. On two or three occasions we flushed all three groups of birds at once. What a sight to see, it sure made deciding what shot to take an interesting challenge. The accommodations were very comfortable and complete. This made the evenings enjoyable sitting around talking about the day's hunt and the next day's plan. I especially liked the solitude of the location being far from other residences and general population. Our host was great and spent a couple evening with us to get to know us. He and his family are doing an unbelievable job of creating a special place to hunt by managing the property to improve habitat while creating variety to appeal to different styles of hunting. I can't say enough about their hard work and dedication to making the property special. Thank you for the opportunity to hunt this property. We intend on reserving the property again for next year."
Mike - OR
"Chris, we had one of the best times ever in South Dakota staying at the Upland Ringneck. The accommodations were incredible and the owners took us in like family. The guide worked hard every day to make sure we had the best hunts and always put us on the birds. They have a very professional but yet personal operation. We are very excited about returning next year. There is no doubt the bird count is down but there is still enough to have a good time. We could have limited out every day but killing birds is not everything.
Day 1 - 12 birds (limit)
Day 2 - 7 birds (only hunted 4 hrs.)
Day 3 - 7 birds (we had more than our opportunity to limit out but missed it)
We are very excited about rebooking next year. Thanks."
Chad - VA
"Chris, thank you for your part in the incredible experience we had this past week south of Armour. I hope you will also extend our thanks to the hosts, the farmers and land managers of Cattail Haven, and our guide. Everyone was incredibly personable, professional, and accommodating.
In particular, our guide was top notch. Apparently it was only his second time guiding Cattail Haven but he knew every inch of that ground and where the birds would be. He payed special attention to the weather and planned each drive accordingly. He always lined up members of our party, as well as his dogs, where we should have the best shots based on our individual abilities. Ultimately, he thought through every element of each hunt, even considering elements that I had never thought about in 15 avid years of hunting. Finally, he was flexible, demonstrated genuine care toward each member of our party (and his dogs), and stressed safety at all times.
Fortunately, we found the birds and shot well, which made the trip very enjoyable. However, I know we would have had a great time with this fantastic team even if luck had not been on our side. Therefore, I certainly plan to book with you all again in the near future and hope David will guide us once more. Thanks again and have a good one."
Will - NC
"Hi Chris, we battled record breaking high temps (64F) and high winds (gusts to 40 mph) so the birds were very wild but we managed limits every day for those that could shoot. A couple of our group fired "at" way more than their limit each day but seemed to have confetti in their shells instead of shot! I'm beginning to think that they are actually moles for the Audubon Society. We picked up a total of 96 roosters and earned every one of them. The Faulkton Camp continues to exceed expectations. The habitat is beautiful, the bird numbers astounding, and the accommodations first rate. The owner/operator is a most interesting and congenial host. Thank you both! Oh, and the new caps are awesome!"
Guy - Tennessee
"Hi Chris, just wanted to drop a line and tell you what a great trip we had this year. J Bar is perfect and the host is a great guy. Thank you again!"
Tom - MN
"Had a great hunt. Weather was awesome. Little warm on Saturday but great on Sun and Monday. Saw good amount of birds. The good plot was well managed with food plots/shelter/crp. I think they are planning on planting some food plots on the other areas next year. The hosts are VERY nice. Lodgings are adequate. Great to allow the dog in the house and they also have a nice little mud room with washer/dryer (we didn't need but many will enjoy that during wet/snowy hunts later in the year). Other nice amenities included satellite TV( with the Big Ten Network so I didn't even miss my Penn State Nittany Lions thrashing Iowa!) and WIFI so I could keep up with things back home. I would definitely include those in the brochure! My dad and I sat on the back porch on Saturday after both shooting our limits early that day and had a beer and a cigar. Great times!"
Jeff - PA
"Chris, the accommodations were excellent for a group our size, the host was very hospitable and helpful, they did visit us in the field to make sure things were going well. We appreciate being able to use the camp to clean birds, shower, etc. before heading home. We did manage to put up enough birds to fill 2/3's of our limit "Great" and missed a few as well. Chris, the overall experience was very good thank you for the opportunity to enjoy South Dakota."
Kelly - MI
"Chris, our hunt was excellent. With the crops out, we saw a ton of birds. Got our limit the first two days and almost on the third. Two of us did some bow hunting. I shot a deer, so we had venison too. Two guys had duck permits, but the drought made it tough. Most ponds were dried up. The host was excellent. Showed us around and gave us a few thoughts on where the birds (or deer) might be. The sorghum field next to the house is amazing. The owner mentioned that he's going to have more CRP land. I feel like our experience was amazing this year."
Kendrick - MN & NC
"Hi Chris, our Idaho group had yet another great hunt at West River last week. The hostis truly a wonderful host with great property and plenty of birds. From the reports we were expecting less birds but found that not to be the case. The abundant amount of CRP land with grass that was deep and heavy this year seemed to hold the birds better and was great for our pointing dogs. We limited our group of 11 and also shot a number of sharp tail grouse, 9 on the first day. We had 3 excellent retrieving dogs and lots very few wounded birds. Please reserve us for West River again next year for the same week 3. I expect a group of at least 10 again. Thanks!"
Randy - Idaho
"Hi Chris, just wanted to pass along a note to you about how amazing our hunt was at West River Adventures for week 9. Bird numbers were truly mind numbing. Since this was our first trip to one of your camps, I wasn't quite sure what to expect. WRA and the hosts did not disappoint. The owner was very helpful in getting us on birds and the camp and facilities were exactly as promised. It was the perfect setup for our group of 10. We wanted a trip were we could go and hunt as we wanted, when we wanted. That is exactly what we got to do. We easily saw 5000 birds during our trip. I would love to rebook for next year, but do to other obligations and plans we will not be able to go next year. When we do make another trip however, I certainly will be contacting you again. Thanks again for the great experience."
Erik - WI
"Chris, just a note to let you know our group of 15 had a great hunt at the West River property. There were 1000's of birds (getting smarter every week) and the challenge was in the pushing, blocking and flanking techniques employed to get shots at the birds. We killed limit two days and could have easily the third day had we not decided an afternoon of watching college football was a good way to end a wonderful three day hunt. The hosts had the place immaculately clean and we did not even hunt a couple of the parcels available this year. You can count on us rebooking for next year and we will make our initial deposits when the time comes."
Paul - NE
"Chris, the hunt was great as it was last year. I would say the birds were down just a bit from last year, but really not a huge notice. We had a group of 12 and limited out each day in a couple of hours. Ron planted Millet food plots in the field east of his house and from a avid pheasant hunter, I don't think the pheasants liked it as well as the Sorghum that he had there last year. The sorghum of last year provided more cover for them. If you could pass that on to him on behalf of the hunters that would be great. We plan to rebook again for next year. Enjoy! Take care."
Brent - IA
"Chris, we had a great trip. Accommodations were great, pheasant hunting was great, the host was great. We want to rebook for next year. When will the web site show the available dates for next year."
Dave - PA
"Chris, I just want to pass on what a great trip we had at Platte Creek once again. This year we decided to try our hands at late season hunt (Week of Dec 5th) and this was much more of a challenging experience. But with the challenge comes more reward and satisfaction of a great hunt. These wise, bunched up, noise sensitive pheasants where very worthy adversaries but our host put my group and four legged hunting partners on the birds. This year I was able to bring my 12 year old nephew (to introduce him to this wonderful sport that we all love) and (Platte Creek Host) took him under his wing to make sure that he would have a succesful hunt. My nephew was able to harvest two late season wild South Dakota pheasants with a 20 gauge. The hosts guidance made a 12 year old young man very happy and proud hunter who can not wait till he can go again. Our dogs work shelter belts, corn rows, cattails, stream beads and open land not only jumping numerous pheasants but were able to get on a couple coveys of sharptail grouse. Needless to say, but these dogs were very happy, cut up, bruised and exhausted K9's. The lodge was very comfortable, clean and close to a grocery store and restaurants with ample parking and space for the dogs. I am working on my group for next year and once again Platte Creek will be our choice. Once again thank you for your enthusiasm and willingness to ensure my group had another memorable South Dakota wild pheasant hunt!!!"
Dominic - OH
"We're all home safe and sound but everyone wishes that we were back at your place! What a great time we had. The lodge was spacious and clean, the beds were comfortable, and the facilities/equipment were first rate. Your habitat is awesome and produces an absolute astounding number of birds! All of us got our limit each day and that didn't even begin to scratch the number of birds we saw. It must be comforting to know that the habitat you've created allows your birds to weather a terrible winter like last year's and still produce the big numbers that we saw this year. I can only imagine what kind of numbers a "normal" winter/spring produces for you in this habitat. Thank you for sharing your bounty with us! We are already in the process of re-enlisting with UGUIDE for next year and I hope this arrangement remains fun and profitable for you both. Thank you for a great hunt and we all look forward to seeing you next year!"
Guy - TN
"By the way, the hunt and the setup at the Faulkton camp were excellent. We all came away with nothing but positive feelings about it."
Matt - LA
"We can hunt pen-raised birds in Wisconsin. We enjoy your wild pheasant hunt. We like the freedom at your camp...the use of your equipment is a big plus for us. [This is the] best place in SD. We have hunted your camp several years and already rebooked."
Lou - WI
"We all thank you for your great hospitality. Since 2005, the 7 to 10 of us have hunted your place. You're always making more improvements. You take customer satisfaction to a new level."
Garland - KY
"We all would like to thank your for your great hospitality, and your farm was a pheasant bonus, with birds calling and flying around all day. It all made for such an exciting time. The lodge was just like home and you have the best habitat for birds."
Ernie - MI
"We had a great time. We all filled out; there were lots of birds. It was great hunting and a nice lodge. Keep up the good work and management; thanks for having us."
Tom - MI
"Chris, just FYI, we had the best opening weekend we have had at J Bar. Our group of 6 was done before 4 each day. Saw lots of birds. Lots of young birds, but many mature roosters, too. We plan to rebook."
Doug - MO
"Chris, have been meaning to drop you a line. Overall good hunt, first day was tough due to wind. We ended up with 17 birds of which 3 were grouse. Late season theme, saw lots, hundreds of birds from afar. The owner provided excellent maps and left us alone. Had a good time. Thanks again."
Jim - MN
"Chris, the hunt was awesome. On the Friday hunt we shot ducks, prairie chickens, grouse and pheasants in the same day. What a day that that was. What a great idea Uguide is. We really enjoyed our time."
Russ - MN
"Chris - Here's some good words on the JBar: Another great hunt - this was our fourth straight year at the JBar, and we had two consecutive parties. First party limited every day, and the second party should have (we had some members that were relatively new to pheasant hunting). We also shot several sharptailed grouse and hungarian partridge. Pretty good for hunting without dogs, although we covered lots of ground on foot, in crop plots, shelter belts, and open grass lands. The hosts were gracious as always, getting us set up and then leaving us alone to enjoy the ranch and its terrain. Although the state had a down year for pheasants, the JBar was in good shape. We'll definitely be back."
Jim - AL
"Just wanted to say we had a wonderful hunt this year! We harvested 31 birds between the 6 hunters and with better shooting we definitely would have put more in the freezer. I will follow up later with some pictures of this year. We are looking to hunt with you again next year during thanksgiving week."
Tom - MN
"We had some great hunts. We enjoyed the owner's hospitality and the guide was great. The birds were flying fast and if we could shoot straight would have had our limits, never the less we came close. Had a few good duck hunts."
Michael - LA
"Chris, just thought I would pass this on. On April 27 many cities in Alabama and Tennessee were heavly damaged by several large tornados and there were many fatalities. I got a call from the Aberdeen North Pheasant Camp owner a night or two after just checking to be sure all of us were OK. That speaks to what type of person he is and the great relationship we have developed with him in just two hunting seasons. He is a great host and we have a great time there and all of us can't wait for the next trip."
Roy - AL
"Chris, I just want to write and let you and the owner at Platte Creek know what an extraordinary experience my group of 6 had while pheasant hunting with at Platte Creek. This was the first South Dakota wild pheasant experience for my entire group and first ever hunting experience for my father in law (age 64) and nephew (age 17) and they are now both hooked. During our hunt we experience 50 plus mile and hour winds, temperature in the teens, snow and then sunny conditions in the 60's on our last day of our hunt. But our host went above and beyond what is expected to ensure we all went home with birds with his drive, dedication, knowledge of the area and willingness to help you out anyway possible to ensure that your trip at Platte Creek will be successful and memorable. We not only harvested pheasants but we were able to get sharp-tail grouse during our Platte Creek hunting experience. This hunting camp was exceptional, comfortable and very well maintained with plenty of room for you and your four legged hunting companions. Our dogs had the time of there lives chasing the rooster through all the different types of cover, shelterbelts and corn fields. I am working on get a group together to come back in 2011 and it will defiantly be with at Platte Creek. Thanks again, the owners at Platte Creek were an awesome hosts!!!"
Dominic - OH
"Chris, we are happy to be rebooked with Platte Creek. He provided us with an excellent hunt. We will probably have a group of 12. Will let you know later. Thanks!"
Brad - IL
"Hi Chris, we're back from Aberdeen North. Had a good time. Didn't shoot limits but we missed them! The host was excellent and we really needed more people."
Eric - MI
"Chris, Aberdeen North was great on week 9. We had a good time and the host was very hospitable. How long do we have to reserve for next year? Thanks."
Darren - IN
"Chris the hunting was unbelievable and and family (owners) did a great job. Thanks!"
Keith - NC
"Chris, I was on a hunt that our company booked in Miller at the wolf creek camp. It was excellent and we got all our birds despite the 50 plus mph winds. It was the best of the previous hunts by far. Thanks!"
Mark - MN
"Great trip Chris! Thanks for your help on this."
Kevin - MN
"Hi Chris we will be interested since it will be the family again for the week of Thanksgiving. we had a great time and want to do it again."
Ty - CO
"Thanks for all your help. We had a great time this year, and we will be signing up for next year again. I'll take care of the deposit in the next couple days."
Don - MI
"Hey Chris. The hunters did not ask for me today so it was just Friday and Saturday that I guided. Went well, got their limits both days so they were happy I believe. Birds are starting to get very WILD!! Take care."
Corey - SD
"By the way - Wolf Creek and all it is was terrific. The owners were great, the house just right and the hunting very good."
John - NJ
"Chris, I have to tell you, I have hunted pheasants in numerous states as well as several locations in South Dakota, and I have never hunted a place as good as West River. The hosts were gracious and we all got along with them and we hope they felt the same about us. I will try to send you some pictures if I can figure it out. We are already looking forward to next year. Have a great Holiday season!"
Steve - CA
"Chris, I just wanted to make sure you and (property owner) were aware of the truly awesome experience we had at West River Adventures hunting for pheasants. In our group of 9, only one of us had been to South Dakota hunting pheasants before this experience. On our trip from Iowa, once we got past the local town, we began seeing pheasants everywhere. This really got our heart rates up after the long drive. In Iowa we hunt most weekends and rarely see birds while traveling. Upon pulling up to where we would be staying, we immediately noticed a new modular home next to the older trailer. We called the hosts and he notified us that this new home would be where we were staying. Everything about the lodge was way above our expectations. The pheasants were constantly calling in the fields behind us just teasing us. The hosts made it over to welcome us, had a drink with us, and hung out for a bit answering our eager questions. He is truly a genuine and personable guy. The hunting the next three days was beyond my wildest expectations. We saw hundreds of birds and had no problems getting our limits each of the days. A couple of us shot our first triples while on this trip. I walked a shelter belt with my video camera and no gun just to record what we were seeing. I walked one and upon further review watched 87 birds fly out in a steady stream in from of me well within gun range. After showing this footage to friends back home, they are begging me to let them tag along next year-which we will definitely be back. Thanks for the great experience!"
Brent - IA
"Hey Chris, we had another great hunt with the hosts. Unbelievable bird numbers that appeared up from last year if that could be possible."
Jim
"I wanted to take the time to thank you for inviting me on your last UGuide hunt at Aberdeen North & South, and Stoneybutte Creek Pheasant Camp. It was one of the finest hunts of my life and I wanted to make sure that we sent you something to let you know. The accommodations were great, the land we hunted was perfect, and as you know because you were there, this ended up being a wonderful hunt. This is my second hunt with your company, and both of them turned out excellent. We look forward to working with your company in the future with much anticipation of other hunts. I would recommend your services to anyone looking for a quality hunting experience. Again, thank you very much for the great hunt. I would definitely like to express to all of your new or potential customers my satisfaction of working with your company."
D. Johnson - MN
"I have known of and been telling people about Chris' operation for a couple of years, this year I was able to get out to SD to have my own U-Guide experience this December just before Christmas; it was an experience that was better than any pheasant hunt that I have been on. We hunted a camp that had been hunted three days a week, every week for ten weeks prior to my hunt and still there were more birds than could be counted with plenty of roosters. I have hunted SD a couple of times in the past few years and have had some excellent hunt but I have never had a hunt like I did with Chris at his Aberdeen North camp. The amount of birds that we saw everyday was mind numbing and like I said before we were there in late December and saw a very high ratio of roosters. We were able to shoot our limit all three days with time to spare each day, an afternoon snooze would have been an option if we would have shot better. Pheasants were not the only wildlife that we got close! to during the day. I was able to see a very nice buck with a drop tine a couple of days once he could have easily been taken with a rifle and the second time he jumped up about 20 yards in front of me in a CRP field. It was after the season so he had nothing to fear from me but it was still neat to see. The bunk house that we stayed in was just about perfect; three bedrooms, a full kitchen, and two full bathrooms. That last thing is very important, two full bathrooms which was very nice. Everything was new including the 4 foot flat screen with Dish. It is a great place to stay and hunt. U-Guide offers the best self guided hunt that I can think of, I have spent a lot of time on an out of state trip driving around looking for some place to hunt. Not with U-Guide, you know where you are going to stay and you know where you are going to hunt. It really takes away all of the stress of an out of state hunt. The other thing is that it is a wild bird hunt; you are not going to shoot any game farm birds like you will at a lot of SD lodges. To me this is really the only place to book a hunt with in South Dakota!!!"
Mark Staloch - Norse Retrievers WI
"I was able to hook up with some old friends I hadn't hunted with for years and just did a Uguide hunt the weekend before Christmas. I still can't believe the cost considering the lodging and numbers of bird we saw. We went to Stoney Butte Creek, 12 of us bagged 36 birds/day all 3 days. With the weather setting in we didn't stay the 4th night, but it was still worth it. Something else cool, I was able to specify the 2nd set of days on the 2/5 day license for next season. We're planning to go back next year. Thumbs Up!"
Jim - NE
"Hi Chris, I wanted to let you know the trip to West River Camp Week 10 went great. We were very lucky with the weather and there were plenty of birds, we did very well. The hosts were great and we enjoyed their hospitality and company very much. We are talking it over whether to re-book that week or try for another. We will be in touch. THANK YOU VERY MUCH!"
Greg - WV
"Chris, I just wanted to let you know how much fun I had pheasant hunting at the Aberdeen North Camp. Late season pheasant hunting with some snow cover is just fantastic. We had field pushes where the pheasants filled the sky like flocks of blackbirds. It was great for my young lab also. You could just see her following constant pheasant scent. You can't really beat having a young hunting dog experience thousands of birds on a daily basis. The lodging was perfect for hunters and the land was even better as it was crawling with pheasants. Thanks again!"
Joe - MN
"Chris - We had a good hunt. I believe that everyone had a good time. We ended up with a total of 56 pheasant and 5 sharptails (during our week 9 hunt). Our hosts were great very nice and helped us with a couple of vehicle problems. It was very cold on Sunday and we only had 6 hunters which made it a little harder. We would go back to the J bar Lazy 7."
Mark - MO
"The hosts were great and their operation here at West River is first class. We expect to rebook here next year!"
Randall - ID
"Chris, we are definitely re-booking. Hunt was great, the hosts out-did themselves, new bathroom really made morning & evening showers wonderful!"
Terry - AR
"Shot 15 on Friday, 21 on Saturday, and 11 on Sunday (hunted till 2:00). It's a nice piece of property and a really nice bird cleaning set up but we didn't see the numbers of birds we would have hoped for in a late season hunt."
Dan - MN
"We killed 31 birds but should have limited every day but for our misses. The host was great and the amount of birds there was unbelievable even with all the corn still in the field. We are re-booking our hunt for next year."
Roy - AL
"Just wanted to drop you a quick note relaying to you how enjoyable our hunting trip at West River Adventures. We have going here for few years now and the hosts are wonderful. They have a great place to stay and hunt. Birds were plentiful as always. We thank you and look forward to hunting with them again next year!"
Chris - AR
The hunt went well, I think bird numbers were up, weather kind of dictated success, but saw some good dog work, my boys had a great time. The trailer worked out great."
Terry - AR
"Chris, the hosts were great people. We spent our mornings and afternoons scouting the properties and the majority of them looked phenomenal. We easily saw in excess of 5000 birds during these drive-arounds. We actually never saw another pheasant hunter in the three days we hunted West River Adventures and probably heard less that five distant shots being fired."
Paul - NE
"We have hunted in SD for many years and we have never seen as many birds as we have seen this year."
Chip - VA
"First of all, we had a great time and please pass on to the owner what a wonderful host he was. This was the best hunting trip I have ever been on. I will always think of the phrase "the trees" a little bit different, what a great place. Yes, we would like to re-book for next year same time and location. I will send in the deposit by the end of next week."
Dave - IL
"Chris, just back in from our hunt at Aberdeen North. The owner was a great host, the accommodations were excellent (he already mentioned his additions for next year) the birds were plentiful and for the most part, our shooting was under average. In all, we took home 50 birds and probably left about 20 cripples for the coyotes. Most were runners that we couldn't get the dogs on. They were bigger birds, better feathered and tougher to kill cleanly than we're used to shooting around here. All things considered, with the corn that is still standing, I think we did a respectable job and if all of us were on our mark, we could have come home with 90 birds. I know I missed more than I killed."
Joe - MN
"Hi Chris, we had a great time! We brought back 40+ birds and lost about 10. The owner was a great host and guide and we'll be back in the coming years. Thanks."
Mark - NE
"Hi Chris, just a line or two to provide you some input regarding our hunt at Aberdeen North during week 5 (16-20 Nov). All in all, a great time. Due to amount of crops still in and our small group size we didn't kill a lot of birds, though we saw tons of them. I would like to say that the owner was an outstanding host. He did all he could to make us feel at home and really tried his best to put us on birds. Thanks."
Bill - NE
"Chris - I wanted to thank you again for the great hunt. I have been hunting upland birds for 25 years, from Quail Hunts in West Texas to chasing Huns in Canada and everything in between. The hunt you provided is right near the top. There was plenty of cover and plenty of birds. Rest assured that we will be back. It was so refreshing to find a place that caters to true bird hunters. I was looking for a place to hunt wild birds. I didn't want someone to dress my birds, someone to cook my supper, or wait on me like I was at the Hyatt. I wanted a good place to hunt, No More No Less. That is what you provided with U-Guide. Thanks again for everything."
Jeff - KS
"Chris - We had a really good weekend. Hunting wild birds is very exciting. The first field we walked on had close to 40 birds jump out on us. I will give you copies of a couple pictures we took along with a reference sometime soon. I am also trying to put together a group again for next year. Thanks again for your help and I look forward to working with you again."
Rich - MN
"Chris - Wanted to let you know that we had a great time on our hunt. It was everything that we expected and more. I am not a meat hunter and we enjoyed our experience there very much. We saw many deer, both Muley's and Whitetail and enjoyed watching two bucks fighting in a field. Saw two badgers (a first for me). My son-in-law shot his first pheasant. My son got several Sharptails - saw quite a few. My prize was a fully mature, male prairie chicken (another first for me) which is now at the taxidermist - could not find a single mark where it was hit - maybe a heart attack. The hosts were very cordial and provided us with a nice map so we knew exactly where we could hunt. The house was super clean and had everything we could want."
Jim - IL
"Chris - Wanted to give you a report on our trip. Still lots of birds. Limited out on Roosters all 3 days, but we had to work for them. 5 Sharpies the last day and 1 Hun. We had a great time. The owner showed us the property and left us alone. Perfect setup for 3 people. Lodging is outstanding. Weather was perfect."
Randy - KS
"Chris - The guys from last year all agree that Pheasant Camp is our place to hunt from now on. As Milo told you before, we have been looking for a place to do a pheasant hunt every year and we have found that place at Pheasant Camp. Thanks for the good hunt and feel free to use me as a reference anytime. Milo and I plan to do this hunt until we cant walk anymore and then we hope our sons will take us. I had my oldest son with me this year and plan to take both sons next year. Milo plans to do the same with his two boys. I can tell you that the second week at pheasant camp will be booked by us for a long, long time. The accommodations were perfect, nothing needs to be added. The hunt was good also. All in all, it was a huge improvement over last year. Thanks again."
Tom - AL
"Hi Chris - We did pretty well. There were nine hunters including the two kids and we shot 27 (limit) on both Friday and Saturday and 6 on Sunday when we only hunted until noon. We shot a total 60 birds for the entire weekend and everyone seemed happy so I would call it a success. Thanks!"
Patrick - IA
"Chris- My group had a great hunt on opening weekend. Although we did not limit out on day 1 and day 2, we did limit out on day 3. The problem wasn't with the ground to hunt but hunters shooting and knowing how to cover the ground. We would like to reserve Choteau Creek again for next year opening weekend for 6 hunters. Thanks!"
Gene - KS
"Chris, I wanted to take a minute and thank you for the fabulous hunt we experienced this past November at your Choteau Creek location. As you already know we have re-booked for the same week in 2008. I've hunted pheasants for over 35 years in several different states but I had never been to South Dakota before. Our expectations were high but we never expected to see this many birds. I understand that 2007 was a record year for SD pheasant populations and based on what we saw this had to be the case. It took us about half a day to decide how to best hunt the large fields and flush the birds in gun range with only 6 hunters but after some trial and error we got it figured out. I had my 2 young Brittany's with me and they had more solid bird work in 3 days than they will get in a whole season in PA. This was the perfect place to work young dogs since there were so many birds. If they made a mistake, they were going to get another chance in just a few minutes. By the end of the first day both dogs were just rock solid. The lessons learned out there have stuck with them and I have had several chances to show them off since returning home. The food plots and CRP mixed in with the normal crops make for great covers and provided several different types on hunting opportunities on the same property. Staying in the old homestead farmhouse was the next best part of the trip. It was set up perfect for a hunting group and added a real homey feel to our trip. Our host Vern could not have been more accommodating and he even let us win at cards each evening after dinner. For a group of experienced hunters with their own dogs this is the perfect hunting situation and we preferred it over any fancy lodge or shooting preserve we have hunted in the past. I look forward to future hunts. Thanks again!"
Jim - PA
"Chris, Thanks for a wonderful hunt. My three brothers and I had a great time. It was just what we had hoped for, plenty of birds and good cover to hunt, and not another hunter in sight. We did hunt the Century farm the third day, with good success. Most of the birds were around the two homesteads and in standing corn on his brothers place. We had wonderful hosts and the accommodations worked out great. I do not equate the success of hunt to the number of birds killed, the overall experience is more important. We really enjoyed being our own guides. The maps you provided we accurate and we did not have any trouble finding our way around. The opportunity to be out on a beautiful fall day hunting with my 15 year old daughter and my three brothers and there sons was priceless. We have some great memories to share because of it. I look forward to doing it again."
Mark - UT
"Chris, My hunting party and I had a wonderful time at your property southwest of Mitchell, SD. The lodge was everything you had said and more. The facility was roomy and we all felt very comfortable and at home. The hosts were hospitable and were very helpful with the layout of the farms. My group limited out two of the three days and should have shot our limit all three days. We saw several hundred birds each day with all types of hunting conditions. All six people from my hunting party will be back to hunt with you again next year. Thank you for a superb hunt."
Jim - IN
"Chris - What a hunt! We had a great time. The birds made us work but they were out there. We limited out on pheasant everyday! We seen groups of over 50 roosters at a time. I took 1 pheasant home to stuff with a 32" tail feather. You felt like you knew the hosts all your life! Great folks! The accommodations were comfortable clean. Everything you might need plus more. They put work into making sure we were comfortable. October could be my new favorite month. Good people, lots of pheasants (grouse were fun too) and the World Series all at the same time. Thanks!"
Jeff - CA
"Chris just wanted to drop you an update on how the rest of our hunting trip went. We all agreed it was the best pheasant hunt we have ever had. We saw so many birds and missed so many birds it was unbelievable, but when all was said and done we were with 52 ring necks. The owners were great hosts, we enjoyed our stay at Century Farms. I look forward to doing it again. Thanks Again!"
Joe - IN
Request InformationNeed help or a recommendation?
Click here to fill out our quick form.