Navigation:
Home
> About UGUIDE South Dakota Pheasant and Waterfowl Hunting
About UGUIDE South Dakota Pheasant and Waterfowl Hunting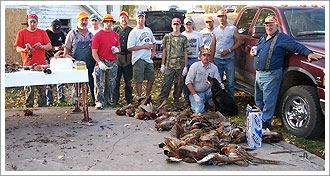 Welcome to UGUIDE Pheasant Camp! A unique pheasant hunting outfitter in South Dakota. Hunting at a UGUIDE Pheasant Camp is the next best option to owning your own private exclusive pheasant hunting camp in a top pheasant county in South Dakota. UGUIDE specializes in private-exclusive, self-guided-unguided, "fair chase" South Dakota pheasant hunting vacations. We take the "Hunt" out of securing for a great pheasant hunting experience for this fall.
UGUIDE is a hunting system that seeks to offer an "above average" hunting experience through improved habitat and hunting pressure management best practices on private land in the top areas of the top state of pheasants, South Dakota. We offer a dramatically different value proposition than your typical South Dakota Pheasant Hunting Lodges.
We specialize in offering our guests a genuine authentic South Dakota Pheasant Hunt (wild native "non-released" birds only) and all the magic that goes with the South Dakota pheasant hunting camp experience. The farmers we partner with offer a unique blend of habitat, accommodations and wildlife within a working farm operation, and all at a reasonable rate.
At UGUIDE South Dakota Pheasant Hunting we build our reputation by delivering some of the best unguided pheasant hunting in South Dakota through unique custom cover 100% Native Wild Ringneck's! The UGUIDE network of pheasant hunting camps gives you, your friends & your family a private, unique and exclusive South Dakota pheasant hunting experience, only made possible via the UGUIDE Pheasant Hunting System.
If you have been searching for South Dakota Pheasant Hunting Guides then look no further. If you have your own dog and know how to hunt birds then we have what you are looking for in an ultimate unguided pheasant hunt.
We currently offer 15,000+ acres, across 6 separate unique private-exclusive South Dakota pheasant hunting properties, offering 3-day hunt/4-night stay or 4-day hunt/5-night stay, self-guided pheasant hunts for groups of 6-17 hunters. Some South Dakota pheasant hunting packages offer combination Pheasant, Sharptail Grouse, and Hungarian Partridge or pheasant and waterfowl combo hunts. Prices range from as low as $895/person up to $1350/person for a 4-night stay and 3-day hunt. Rates vary by week of season, tier, and group size. See Availability page for more details.
In addition to great pheasant hunts we offer waterfowl hunting at no additional charge. Learn more about UGUIDE South Dakota Waterfowl Hunting here.
If you are serious about about a pheasant hunt or combo pheasant duck hunt then you will want to make sure you review this page that shows how to look at all the various info we have on our site that will be important for you to know before making that all important decision to book a Book a South Dakota Pheasant Hunt Online.
***Save costs on fuel and dining by hunting at a UGUIDE Pheasant Camp***. When you hunt with UGUIDE you stay on or very near your hunting property and all lodging facilities are equipped to cook your own meals saving you hundreds of $$ in dining and driving costs. When you hunt public and stay in motels you put on a lot of miles in a day of hunting. At UGUIDE you hunt more and drive less. Plus checkout the discounts available to all UGUIDE groups.
For assistance in selecting the best camp for your group please submit the Request Info form and I will respond based on your groups hunting vacation requirements.
UGUIDE South Dakota Pheasant Hunting "Pheasant Camp" Locations Click here for MAP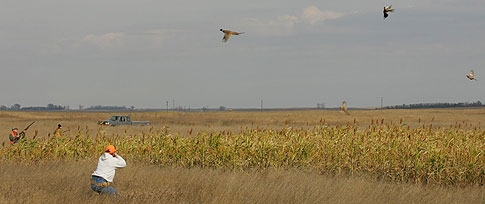 If you are concerned about the future of upland bird hunting and pheasant hunting in South Dakota you'll want to learn more about the new UGUIDE Free Market Habitat Organization which establishes a sustainable relationship between hunters, landowners and habitat through the fee hunting business.
Remember, the easiest way to find UGUIDE South Dakota Pheasant Hunting on the web is to enter "UGUIDE Pheasant Hunting" in the search engine Google (or your favorite search engine for that matter).
**************************************************
UGUIDE is a resource, to hunters and landowners, which provides high quality self-guided pheasant hunting experiences in the prime areas of South Dakota.
UGUIDE was founded by Chris, the Owner/Operator of the "Pheasant Camp Lodge", which ultimately became a model for all UGUIDE Pheasant Camps. Chris has over 30 years of pheasant hunting experience in Minnesota, Iowa, South Dakota and North Dakota. He actively farms and manages his own South Dakota Pheasant hunting property as well as working with the owners of the various Pheasant Camps on their development.
UGUIDE exists based on the founding principles for the pheasant camps operation:
Highest national pheasant populations based on hunter & partner funded habitat (not released pheasants)
Repeat rate tells us how we are doing at each pheasant camp. This is the percent of hunting groups that come back to that camp each year.
Continuous improvement of Pheasant Camps based on hunter funding (Pheasant Camp package fees) and feedback from groups on their hunting experience.
Not sure where to start your fair chase pheasant hunting experience? Get in contact with Chris by filling out the Request Info Form so I can help you find what you are looking for.
Thank you for considering UGUIDE South Dakota Pheasant Hunting for your next South Dakota Fair Chase Pheasant Hunting Experience.
Request InformationNeed help or a recommendation?
Click here to fill out our quick form.