Navigation:
Home
>
News
> UGUIDE's Review of the Pheasants Forever 2022 National Pheasant Fest – Omaha Nebraska
UGUIDE's Review of the Pheasants Forever 2022 National Pheasant Fest – Omaha Nebraska
March 18, 2022 by UGUIDE South Dakota Pheasant Hunting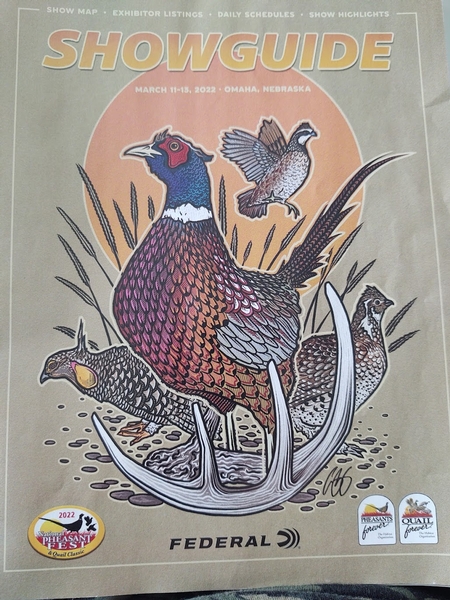 The first ever Pheasant Fest was held in Bloomington Minnesota, 2003, and I was there. I've tried my best to make everyone since then and have only missed a couple. They used to be every other year at the start and are now held annually. It seems the Omaha market is a little smaller than other markets such as Mpls or Sioux Falls. The 2023 Pheasant Fest will be held in Mpls and then move back to Sioux Falls in 2024. As you may recall the 2021 Fest in Sioux Falls was cancelled due to Covid.
My approach to this year's show was different than in the past. For most shows I would go to suck up as much biological habitat info at the many seminars in order to aid my building of the UGUIDE farm in South Dakota. With the UGUIDE farm not pretty much complete (after 20 years) my thoughts turned to giving back and expanding habitat off farm. If you want to produce more pheasants you have to create more habitat, plain and simple. My goal this year was to mainly network and meet as many new people as possible and hand out my latest Blog article on state of the union US Habitat Facts. Here's the highlights of this years show:
Sorghum Checkoff – Probably not the most exciting booth to shoot for at the Fest but I am elated to see the first presence of the "Production" side of the land equation. I met two fine farmers from Kansas who manned the booth and could speak both "farmer" and "hunter". If we are to tackle our habitat shortfalls it will only happen when we get more producers into the conversation at this show. The attendees absent were "Corn Growers", "Wheat Growers" and "Soybean Growers". I would love to see the addition of the "Producers" or "Growers" stage at the Fest. Many attendees had questions about where to source seeds as well as how to grow excellent food plots. I know that has been a battle of mine and can use all the help I can get!
Aberdeen Pheasant Coalition – I am super impressed with how much energy and creativity the Aberdeen Community puts into this show and its pheasant hunting. The have even formed their own group to incentivize private land owners to open access in Brown County. To date that have open up 4000 acres of prime habitat which is impressive. The website shows the local of all.
South Dakota Tourism – Even though we were away from the great state of South Dakota their presence was surely felt at this years Fest. The South Dakota Pavilion is a huge collection of exhibitors and all things South Dakota! It is impressive to be sure. South Dakota Tourism is a big sponsor of pheasant hunting and Pheasants Forever. They make this show special.
The Habitat Stage & UNL – My first seminar at the Habitat stage was given by a UNL Grad student 2 years into a 4 year project. Identifying and Prioritizing Pheasant Habitat in Agricultural Landscapes was awesome and we need more of this.
Wing It – An new organization that is like the Airbnb of hunting land bringing private landowners together with hunters wanting access. It is new in formation so stay tuned.
OnXmaps – The show featured an absolute ton of information about public lands access, scouting, strategies and technologies of which was the onXmaps mapping tool. PF has done a great job in equipping the avid hunter with the tools and knowledge to take on the terrain and be successful. The public Lands Pavilion and Path to the Uplands stages were packed and full of knowledge and excellent presenters.
Howard Vincent, Bob St. Pierre and Tom Carpenter – Howard is the CEO of PF and Tom is the Editor of the PF Magazine. Both were accessible and wonderful to converse with. Bob has. Like me, be a staple at Pheasant Fest since day one an hosts the On The Wing Podcast which I enjoy listening to in the tractor while doing habitat work.
Non-Typical Outdoorsman TV – I got to meet Eric Norris who hosts this TV show on Pursuit Channel. Eric is an Iraq war vet and is leading the way in hunter involvement and getting new hunters in the field. I look forward to watching more of Eric's show and seeing him at next year's Fest.
Polaris, Runnings and John Deere – These were the standouts for me of new and well equipped vendors at this years show. Tons of product knowledge and impressive exhibits.
Dogs, dogs, dogs – If there is one thing I have learned about this show and the bird we love to chase it is that dogs are the #1 component for sure. And it is no surprise that the Dog Stage and the neighboring dog exhibitors was the most packed area of the show for all hours of the show. As well it should be. I got to meet Tom Dokken and his wife and learn that Tom has, like me, moved from Minnesota and taken up residence on their 500 acre farm near Webster South Dakota.
Time to make plans for the 2023 Pheasant Fest at the Minneapolis Convention Center Feb 17-19! Mark your calendars!