Upland Bird Hunting - The Good Old Days are Here!!! - South Dakota Report
October 15, 2007 by UGUIDE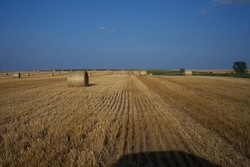 Hunters should get ready to step back in time as they prepare to share the fields with a pheasant population the likes of which hasn't been seen in South Dakota since the Soil Bank years of the 1950s and '60s. Brood count surveys by the S.D. Game, Fish and Parks Department estimated that statewide this year's pheasant population was 23 percent higher than last year's and 18 percent greater than the 2005 pheasant population that was at a 40-year high. "South Dakota's pheasant population is booming this year because of optimum weather conditions coupled with a wealth of acres in the Conservation Reserve Program that provide excellent habitat," said GFP Secretary Jeff Vonk. "This kind of pheasant abundance could be short-lived if there isn't a healthy conservation component like CRP in the next Farm Bill." According GFP, approximately 300,000 acres of CRP could be lost this year, making it unavailable for nesting cover in 2008. "Hunters may see the signs of the change," said acting Wildlife Division Director George Vandel, "as some of the CRP fields will likely be burned, plowed or hayed by the time of the pheasant opener." Public lands open to hunting can be found throughout South Dakota. However, private landowners who open their lands to hunting are still one of the keys to a successful pheasant season. "Our department works diligently to secure land for public hunting," Vonk said, "but we'll always be grateful for private landowners who graciously allow hunting on their property." Vonk noted that hunters must always ask permission from the landowner when considering hunting on private land. Safety is another key to a successful season. "Hunters can't let the excitement of the day cloud their judgment," said Vandel. "Safety has to be on the minds of all hunters." Vandel offers a few important safety reminders for hunters: · Though it's not required by South Dakota law, upland bird hunters should wear fluorescent orange clothing. · Keep track of hunting companions in the field. "Too often an accident occurs when one hunter swings on a bird and shoots without noticing other hunters in the line of fire," Vandel said. · Road hunters must keep in mind the 660-foot safety zone around a schools, churches, occupied dwellings and livestock. "If hunters remain aware of safety precautions and the state's hunting regulations, this should be a great hunting season for everyone," Vandel said. Some of those regulations include: Season dates: In most of South Dakota the season runs from Oct. 20 through Jan. 6, 2008. At the Sand Lake National Wildlife Refuge in Brown County and at Renziehausen Game Production Area and Game Bird Refuge in Brown and Marshall counties, the season is open from Dec. 10 through Dec. 31. Shooting hours: From Oct. 20 through Oct. 26 the shooting hours are noon Central Daylight Time to sunset. For the rest of the season, shooting hours are 10 a.m. Central Standard Time to sunset. Daily/possession limits: The daily limit is three cock pheasants. The possession limit is 15 pheasants taken according to the daily limit. An individual hunter can possess no more than three pheasants on the Saturday of opening weekend and up to six on Sunday. To possess another hunter's birds, a free transportation permit must be obtained from a GFP conservation officer. Arranging for this permit should be handled well in advance of opening day. Transportation permits are not issued as a means of allowing the daily/possession limits to be exceeded. License/I.D.: Hunters must possess, while hunting, a valid S.D. hunting license and the proper form of identification. That I.D. may be a valid state-issued driver's license or a state-issued and expiration-dated identification card. Hunters under the age of 16 can carry their HuntSAFE card. Transporting birds: Pheasants and grouse must have either the head, fully feathered wing or foot attached while being transported. All other game birds must have either the head or a fully feathered wing attached. Nontoxic shot: Most public lands in South Dakota require the use of nontoxic shot while hunting for pheasants except on U.S. Forest Service National Grasslands, areas administered by the Office of School and Public Lands or on GFP-leased property designated as Walk-In Areas. Dogs: A hunter who brings a dog into the state must have the animal's health certificate from their local veterinarian indicating that all shots are up to date and that the dog is disease-free. Hunters should also remember to bring along enough water for their dogs.
Posted in: SD GFP News
---
Reader Comments
0 Comments on Upland Bird Hunting - The Good Old Days are Here!!! - South Dakota Report
Would you like to comment?