The UGUIDE Story – Act III
May 19, 2021 by UGUIDE South Dakota Pheasant Hunting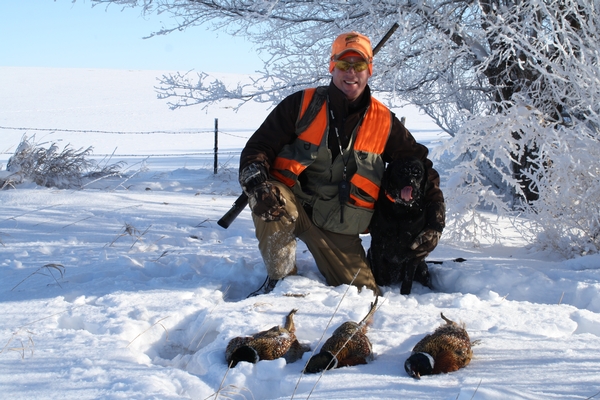 The Next 20 Years

Act III of the UGUIDE story might be the next 20 years; God willing. Acts I & II would encompassed the first 40 years. To see where we might go in the next 20 years, we'll take a look back at those first 40 years.
ACT I
This is where the UGUIDE story began. Dad was pheasant hunting in Iowa with some friends before I could go with. For someone from Minnesota, going to Iowa pheasant hunting was like a dream destination. And it was worthy. Finally, at the age of 17, I got the opportunity to join the group (my dad's high school buddy and his son). This would have been right around 1980 and we spent the next decade hunting together 4-5 weekends a year. Mainly hunting public land and staying in motels. We covered miles on the roads and also on foot in pursuit of what would become my life's gamebird, if you will. The memories are way too many to detail here, but they were certainly instrumental in what UGUIDE would later become and why it is popular among fair chase pheasant hunters. In the later decade, the 90's, Iowa boasted some of the highest pheasant numbers ever. Even higher than South Dakota. My hunting eventually evolved to mainly solo hunting with dogs I borrowed from co-workers who had adopted them from the humane society. I enjoyed observing how just about any dog will learn how to hunt game birds given the right conditions. Towards the turn of the century though, I had become burnt out on public lands and motels and desired a different experience. Private lands, and the ability to manage hunting pressure and augment the landscape to create your own little honey hole for pheasants, was my next adventure.
ACT II
Spring 2001 to today is twenty years. It goes by so quickly. How do you buy farmland? Good question. In the cities you lookup property on the MLS and buy it; easy peasy. Farmland not so much. You've got to have a friend who went to college with a guy who works for a bank who knows a guy in the Iowa real estate business who knew a guy from the seed business whose brother want to sell his 300 acres in Charles Mix County SD. I don't think I had ever been in South Dakota before. As of 2 years ago it is now my state of residence. After a little education and analysis it became clear that South Dakota was a better investment for my pursuits than Iowa. After purchasing an additional 400 acres two years later, I would have plenty to keep me busy for the next 16 years. Just this spring we have planted the last of the 700 acres to grassland habitat. Prior to that over 50,000+ trees were added to the property. Point being, it has taken from 2002 till 2021 to establish 700 acres of prime pheasant habitat. I boast that, acre for acre, it is the most optimized pheasant habitat in North America. No one has refuted me yet. I must say that this would not be possible without a lot of great partners. To name a few: Pheasants Forever, US Fish & Wildlife, FSA, NRCS, FCS and local Ag Coops and last, but not least, all the UGUIDE pheasant hunters and pheasant camp owners that have joined us over the years. I never had commercial pheasant hunting interests in the beginning. It just grew out of a need to pay for the farm and a resource that seemed to come naturally to the state of South Dakota. I joke with people and say that in 2002 I could not even spell C-R-P. That's how much I knew about habitat and farming. Now I can tell you all about the 42+ types of CRP contracts one can enter into. We've entertained up to 600 guests across 13 pheasants camps down to the current 350 guests across 5. I do like the smaller numbers, higher quality and closer contact with the guests and camp owners. The UGUIDE experience has been molded more so by our guests and farmers that open their properties to them than by myself. My role has been as an experience facilitator.
ACT III
What next? Enjoy! With the last acre of CRP planted on the farm it doesn't mean the end of habitat work but it means the end of the largescale major project implementations. Now is the time to enjoy the fruit of the labor. We're certainly at the mercy of how many total habitat acres exist in the state. We're at 900K and would like to get back to 1.6 million acres. We've learned we can produce good local populations of pheasants but we need our neighbors' help. We need a well designed blend of conservation and production acres. It's hard to write about ACT III because I feel like it is just starting. We've learned so much and come so far. It sounds cliché but I feel blessed to be part of a hunting system that so many find truly unique. I guess the thing to do now is build on what we built. Namely, tweak and refine. The new 30 X 30 conservation plan may be our best bet yet in helping to create the boils of pheasant flushes of old. The Good Old Days are dead ahead!