Navigation:
Home
>
News
> South Dakota Game, Fish and Parks Discontinues its Annual Brood Count Survey
South Dakota Game, Fish and Parks Discontinues its Annual Brood Count Survey
June 06, 2020 by Luke J. Hagen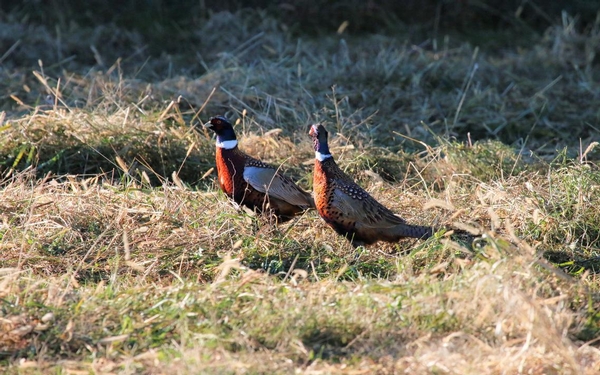 The report is 70 years running, released around Labor Day, and gets residents and nonresidents talking about the upcoming season. It shares scientific data and compares a pheasant-per-mile index for multiple regions throughout South Dakota along with a statewide snapshot of the bird population.
Multiple officials said the report has no impact on what they called the "biological side," meaning how they set bird limits or season hunting dates.
GF&P Secretary Kelly Hepler made the recommendation during Thursday's regular commission meeting to discontinue the brood routes. The top GF&P official also suggested there be no public comment on the matter and that the commissioners allow the department to halt the survey beginning this year.
The decision comes on the heels of months-long work from a GF&P-formed pheasant hunting marketing work group that's planning to spend thousands of dollars in hopes of increasing small game license sales by 10% over the next three years.
"We're ready to invest a lot of money to try very aggressive, scientific-based marketing," Hepler said during the video conference meeting. "Does that survey, will it enhance or take away from that marketing campaign? I asked that question and the answer I got back from the marketing team is it takes away from that campaign.
"So you remove the biological side and you remove the marketing side of this, and so then the question really becomes what really is the purpose of it? There are probably some purposes out there, but it becomes more nice to know than need to know."
In an email to department staff Wednesday, Hepler pointed out the "strong correlation between the statewide pheasants per mile index and both resident and nonresident pheasant license sales, which is concerning when the PPM index declines." He noted that in 2010, South Dakota brought in more than 100,000 nonresident pheasant hunters compared to approximately 63,000 last year.
GF&P estimates that the survey ran about $80,000 to $90,000 annually to cover staff and mileage costs. The department said all wildlife surveys are now being assessed and that GF&P will not directly monitor the pheasant population moving forward.
Three GF&P commissioners voiced their support to discontinue the survey and do it without public commentary.
"A lot of times the public thinks the public commentary portion is a vote, where the yays win and the nays don't so to speak, when in fact it's just additional information," said Commissioner Doug Sharp, of Watertown.
Added Commissioner Russell Olson, of Wentworth: "We're running a business here, and we have to remember that. A lot of that business relies on travelers into the state."
Earlier this year, GF&P formed the marketing work group to evaluate survey data collection, reporting and messaging that could mitigate loss of license sales when the pheasant population declines. It chose specific areas in which to allocate advertising dollars and will, through the joint effort of GF&P and the South Dakota Department of Tourism, spend $700,000 in its first year of work, which begins later this month.
In its key point indicators shared with the commission on Thursday, officials said they hope to:
Increase GF&P website traffic by 10%.

Increase subscribers to GF&P's platforms such as online and magazines by 15%.

Increase GF&P's social following by 10%.

Increase small game license sales by 10% on the third year of the initiative.
The group met in February, April and May and set multiple recommendations to achieve its objective. While looking specifically at the brood count survey in May, the group recommended to alter but not discontinue the brood count survey. The group recommended to replace the old local area approach (13 areas) with approximately six reporting regions and include measures of variability.
"When the pheasant brood report and associated press release are revealed to the public each year, the overall change in the statewide PPM is the dominant headline reported by media outlets," the work group said in its report. "The news headline often dictates hunter (or potential hunters) expectations, although regions of the pheasant range may have exhibited a much different population trajectory than the statewide PPM change.
"Simply not reporting the statewide PPM and focusing on regional PPM messaging could be an approach, but we would need to be prepared to proactively justify the action. The media and hunters are used to seeing 'the number,' so some backlash is likely inevitable."
Another notable change the marketing work group is recommending is to increase the bag limit from three to four pheasants late in the season, and to establish a 10 a.m. start time as the beginning of shooting hours for the entire season.
South Dakota's traditional pheasant season begins Oct. 17 and runs through Jan. 3. It is estimated that residents ($80.2 million) and nonresidents ($138 million) combined to spend $218 million on pheasant hunting in 2018.
Check Availability of Self Guided UGUIDE Pheasants
Posted in: News, SD GFP News, Pheasant Outlook, Pheasant Harvest Report, Conservation
---
Reader Comments
5 Comments on South Dakota Game, Fish and Parks Discontinues its Annual Brood Count Survey
Would you like to comment?