UGUIDE Review of 2023 Commodity Classic
March 22, 2023 by UGUIDE South Dakota Pheasant Hunting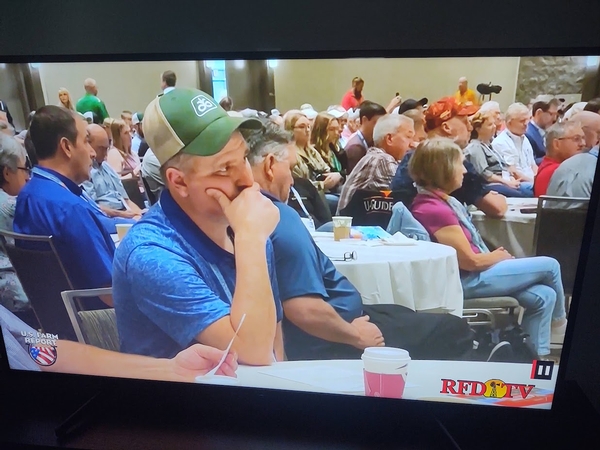 2023 Commodity Classic in Orlando FL sets new attendance record at 10,400. This breaks the old 2016 record of 9,770. America's farmers really know how to throw a bash!
I was a first year attendee as well as a few other folks I met at the show.
This is America's largest farmer-led show. According to this year's data, the average farmer attendee owns/operates 3,450 acres of farmland. That's a bunch!
Other first year attendees or exhibitors were: Ducks Unlimited, Millborn Seeds and The Land O' Lakes Fleet Purchasing Program. Pheasants Forever also exhibited at the show and were there last year as well.
As I was told by an agronomist friend, "You won't find much conservation at this show". He said this knowing that I have been a loyal and faithful attendee at Pheasants Forever's National Pheasant Fest every year since its inception in 2003. I was excited to see the Sorghum Checkoff group exhibiting at Pheasant Fest in 2022 in Omaha. They also sponsor Pheasants Forever. Pheasants love sorghum! That begged the question, "where were Wheat Growers and Corn Growers"? I was told at the time, "They're at Commodity Classic". I didn't know much about this show but that was the seed planted to get more information and the best way to do that would be to attend in person.
So off I went to Orlando to determine if this event was worth attending once or even in the future. Well it was for sure worth attending and I am excited to go again some time in the future. The two shows conflict on dates on the same weekend in 2024 so I will default to my main show happening May 1-3 in my home state of South Dakota in Sioux Falls.
If you went to any event at the show, like Wheat Growers Yield Winner's Gala, you would sit around a table of people and most all of them were farmers. Consequently, I met farmers from all over the country. And one of the most unexpected outcomes of these chance introductions was whenever a farmer found out that I was in the pheasant hunting business in South Dakota, they would have some kind of personal story or connection to that industry in that state. They would say their son goes to South Dakota hunting or their dad used to take them pheasant hunting when they were young and now, they don't have pheasants so they go to South Dakota to hunt pheasants.
So this was one great connection I took away from the show. Another was discovering how diverse my home state was for all agricultural products. From corn & soybeans in the eastern part of the state to sorghum, safflower and sunflowers in the west part of the state. And everything else in between including cattle but this was not a livestock show.
The show was very impressive in size. The smartphone app was very handy for navigating your way through the show in every aspect. It had it all. I wish Pheasant Fest would develop a similar app. Exhibitors' booths varied in size from the giant John Deere or Pioneer/Corteva down to the smaller presentations like Pheasants Forever had.
The General Session was huge and well attended featuring the keynote speaker, Ag Secretary Vilsack. There were many other educational sessions on Soil Health, Pesticides and Endangered Species issues, for example. In addition to this, the US Farm Report Show was a live taping and I even made the show (see article picture).
It was interesting that there were only 4 major grain groups participating and represented at the show. Corn Growers, Soybean Growers, Wheat Growers and Sorghum Growers. I came to learn from the Kiosk in the Pioneer booth that the 4 Grain Sorghum Yield contest winners for 2022 in South Dakota all came from my home county of Charles Mix. One winner had an impressive yield of 209 bushels per acre.
I was there to network and I was excited to see others there to do the same. In the future I would love to see more networking and connections made between these two major shows in the way of conservation and production agriculture. Here is a great success story I came across on Pheasants Forever's Precision Ag effort helping to turn Red Acres Green in South Dakota. Be sure to watch the video in the story about John Deere's Precision Ag winner of the Year from South Dakota.
Every day around the last hour of the show the bigger vendors rolled out the beverage and food carts for their own personally hosted happy hour! That's where the best networking happened in my opinion. I was able to land a trial of some new technology seed to try on our farm this spring in 2023. Learn more in my article on our 2023 UGUIDE Food Plot System. It was great to visit with the lead people rolling out these products who are involved in their trials to get the best info straight from the horse's mouth so to speak.
It is a sign of a good show when there is more to explore and learn about than you can get done in 3 days. That was certainly the case with Pheasant Fest this year as well as Commodity Classic.
I won't be able to attend Commodity Classic in Houston in '24 but will have my sights set on Denver in '25 and San Antonio in '26. Looking forward to Pheasant Fest coming back to my home state in '24 in Sioux Falls March 1,2,3. Hope to see you there!
Request InformationNeed help or a recommendation?
Click here to fill out our quick form.