UGUIDE's Review of 2023 National Pheasant & Quail Fest
February 20, 2023 by UGUIDE South Dakota Pheasant Hunting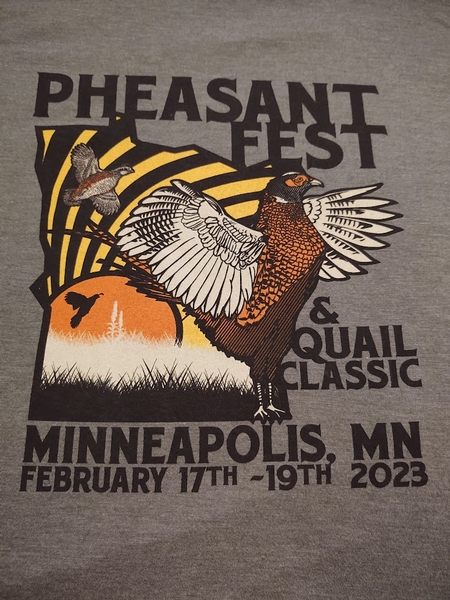 Another Fest is in the books! I can't tell you how far this show has come from the very first one I attended in 2003 at the Radisson Hotel in Bloomington MN. Every year the show continues to grow and evolve. I don't come to the show with a specific agenda other than to network with exhibitors and attendees. Here's the UGUIDE review in bullet format:
·

I heard the Dog Trauma Clinics were a hit.

To that end, I ran into a guy that traveled from Seattle just because of those new classes this year.
·

Pheasant Fest was held the last weekend in Minneapolis and drew a record crowd of more than 33,000 attending over the 3 day weekend.
·

On Thursday there was a Film Festival at the Pourhouse but my previously booked flight came in too late to check it out.
·

The event main hotel (Hyatt Regency) was a wonderful stay.

Friday night everybody was chilling in the main lounge by the huge fire and hanging out at the open bar next door.
·

We discovered the onX after party Friday night and they had a great band and beverages.

We had never seen anything like this before.
·

onX is a great product for the DIY hunters.

I got more info on how to use this product to its full potential.

I wished I had had something like this when I freelanced my way across Iowa in pursuit of ringnecks in the 80's & 90's.
·

This might have been related to the MN show but some vendors and sponsors did not exhibit this year like John Deere, Sorghum Checkoff & Runnings to name a few.

It makes it hard to network and broker deals and ideas when they are not present.

Polaris and onX are examples of great vendors who had great product presence at the show.

Polaris had the longest line at the show by offering customer logo hats custom made at their booth.
·

The amount of pheasant hunting gear and selection was excellent.

Many new vendors on site to offer a diverse range of products.

I regret not having time to get around to all the selection.
·

My main goal was to meet and greet those in the dog booths because these types of people are the ones who know my future UGUIDE customers and also make good repeat ones.

Here's to a re-focus on that agenda next year.

I did meet a gentleman from the NAVDA booth while eating lunch, and he confirmed it would be good for me to network more with their "breed".
·

All the seminar stages and schedules were well coordinated.

I like how the events at the Main Stage had no conflicts with other stages since those events were ones that should be attended by all.
·

Both Friday and Saturday night Banquets were sold out!

Way to go!

Some feedback on times of the banquets was that they should not conflict with show hours so exhibitors are not strapped for time and are able to readily attend.
·

Next years show is in Sioux Falls SD on March 1,2,3.

Looking forward to it!
·

The great partners of South Dakota Tourism and South Dakota Game Fish & Parks did a great job with all the booths in the South Dakota Pavilion.

They have been great partners in my business over the years.
·

I met my neighbor from Geddes SD who was exhibiting his outfitter business at the show.

We found out I could refer them clients interested in fully guided hunts and they would refer me DIY fair chase leads.
·

On a side note, I am on my way to Commodity Classic in Orlando in March to see what that is all about.

I feel we should have more conservation at production shows and vice versa.
·

It concerned me that there is a new farm bill due this year but there was not much emphasis around expanding the amount of CRP acres in the new farm bill.

Usually it is a highlight of the show in a farm bill year but it was a big Nothing Burger.

CRP grows pheasants.

It's also the original "Green New Deal".

If carbon is even a problem, then nothing sequesters carbon better than native warm season grass of which most can be found on CRP acres across the country.

It's taken me 20 years to convert our prime South Dakota corn and soybean producing ground into prime ringneck pheasant producing ground.

My pheasant numbers were the lowest ever last year.

Why?

CRP acres have declined as well as small grains.

We need to be laser focused on growing both programs.
·

I thought the forum on all the various partnerships between conservation organizations was impressive.

Strong partnerships are a must if conservation is to survive and grow.
·

I feel the establishment of connectors between key conservation organizations and key commodity production organizations are imperative to the environment.

There were no commodity groups present at Pheasant Fest and there may be no conservation groups present at Commodity Classic.

If this is the case, this is the problem.
In summary, Pheasants Forever has been a great partner to a multitude including myself, and has evolved into one of the great conservation organizations of all time. Pheasant Fest is a key event during the year and a place where conservationists (and producers) can come together and grow our passions and preserve our future for our families. See you all in Sioux Falls in '24.
Request InformationNeed help or a recommendation?
Click here to fill out our quick form.