2019 UGUIDE South Dakota Summer Pheasant Hunting Outlook Forecast Report
May 17, 2019 by UGUIDE South Dakota Pheasant Hunting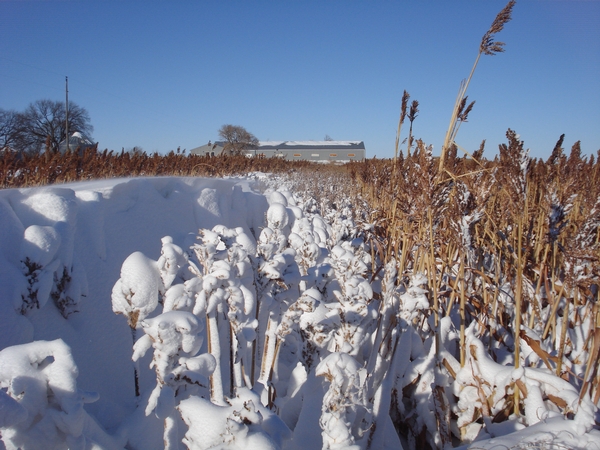 "They haven't turned a wheel over there". That's what a farmer friend just told me today about some farmers he knew who were wetter than we were. Let's back up to January this year. I have commuted between Minnesota and South Dakota for 17 years in building the farm and the UGUIDE business. Last summer my wife and I decided it was time to make a full time commitment to both of those things so we sold our Minnesota place and moved to the South Dakota farm full time.
In January, I know at least one time we went ice fishing and it was 53 degrees. Yes, you might be wondering how ice is made in 53 degree temps. I won't get into specifics but just made mention of this for the fact that winter started out mild. Once February hit we fully believed we had brought Minnesota winter with us for good.
Even though I spend a lot of time at the farm in the spring months, we gained a new appreciation for what wildlife has to endure on the prairie. In the past I have made comments that we have enjoyed an "open winter" (little to no snow). That is certainly not the case this year. The need for good habitat has never been more evident than this year. Good food plots, good heavy thick cover and woody cover are all required to sustain naturally produced pheasants.
We have not found many birds dead at all so it is hard to determine if mortality rates are high or not. We are seeing and hearing roosters and hens do their spring thing. A hunter recently asked me "How's the hatch going"? My natural response is "I will tell you in December after all our harvest reports are in". It's always exciting to report the first hatched chick and we could be a couple weeks away from that happening.
We did have another April blizzard which was outside the realm of possibility. Out our window we could see several roosters gaining a vantage point to display their brilliant colors from a 4' snow drift in the tree belts. Nonetheless we endured it and the 15" of snow we got was melted within a week.
The upside of all this moisture is that vegetative growth will be through the roof which will benefit wildlife. In the bad drought year of 2017 the hunters at our farm found 21 deer dead from EHD disease. 2012 resulted in a bad drought and worse whitetail death tolls. In recent years we have found almost no deer loss and this can certainly be attributed to ample water sources come late summer and fall.
We had a good hatch last year and we also had an April blizzard. I will take the moisture, as newly hatched pheasant chicks dine on bugs for at least the first 2 months of their lives in June and August. A lot of moisture and growth makes for a lot of bugs-brood food.
Looking forward there is cause for optimism not only this fall but in future falls as I recently received notice that new CRP signups would be opening up new acres from the 2018 farm bill. South Dakota is looking to get back up from 900,000 enrolled acres to its past 1.5 million+ enrolled acres. A December 2019 General Signup has also been promised.
With the current down grain markets and difficult field weather conditions there should be increased interested in farming conservation.
Request InformationNeed help or a recommendation?
Click here to fill out our quick form.