2018 UGUIDE South Dakota Summer Pheasant Hunting Report
July 05, 2018 by Unguided South Dakota Pheasant Hunting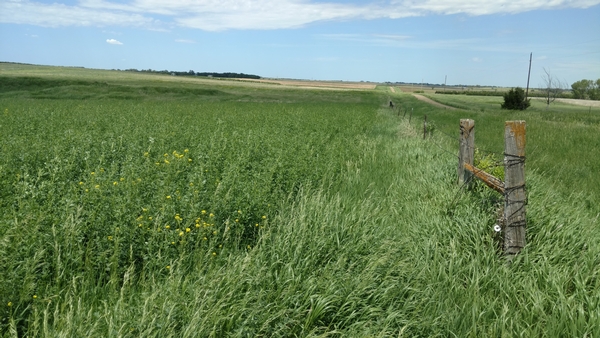 This Report we will do something different and give you the updates right from the farmers mouths. Here are 3 updates from farmers I work with across the state in the past week:
Report 1 - "Dear Guests: We try to send updates at significant times. While not much time has passed, lots to report.
We finished spraying and replanting milo on Monday, July 2. I have no idea how well Pheasant numbers will rebound. I can tell you I saw many many broods of Pheasant chicks. I would say the pheasant hatch and the habitat is optimal.

On Monday night we got 1 1/2 inches of rain. On Tuesday night we got another 1/2 inch. We did not get hail.
Our food plots are looking good. We have made tremendous headway on weed control. We planted food plots different. We had our own tractor that allowed more flexibility in planting. We installed new guidance system for our sprayer. We simplified our food plot planting. We bought commercial seed. We fertilized properly. We sprayed three times. We used newer chemical technology that did a better job. I am sure you will notice the difference.
Sometimes - you are most thankful for what does not happen. On Monday night, the Polo area (south of Orient) received 8 to 10 inches of rain and hail. They had tremendous flooding issues. This storm was coming from southeast toward the farm and then just stopped. A blind man could see this storm was gonna be BAD. The 1 1/2 inch we received came from a different cloud system later that night.
On Tuesday night Orient got 2 to 4 inches and hail. Rain and hail like that would have wiped us out. We dodged that bullet.
We have much to be thankful for."
Report 2 - "Hunters, hope the year has treated you good so far and you have been able to enjoy the summer. I thought I'd update you on the year so far as we enter the halfway point in the summer.

This year has been a complete 180 from last year. I don't think there has been a week since May 1st that we haven't had had at least a half inch of rain weekly. Things have never looked so good. I finished spraying food plots today so the next time anyone will be in the plots will be all of you with shotguns. Just today, I saw four broods of pheasants and a brood of partridge. I also saw a brood of grouse about a week ago. Always a good sign to see broods this early and as big as they are. A good hatch is in store as long as we can avoid any severe weather. The cover, food plots, and crops all look amazing. The next few weeks will be more telling on pheasants as they keep growing and showing themselves more on the roads and in the ditches. To give you a sense of things I have attached a picture of some of my production corn. It is anywhere from shoulder high to as tall as I am. Never in my life have I seen corn on the 4th of July 6 feet tall in our area.....ever.

Fall is approaching and summer will soon be over enjoy the warm weather. Bring lots of shells and look forward to seeing you all. If you have any questions feel free to ask. "
Report 3 - "Greetings 2018 Guests, Seems like forever does a planting and hatching season make. At this point we tend to commit things done to mother nature and turn it over to her at this point.
Here's the fast 10-25 points from spring planting:

·

If vegetative growth is any sign of a good hatch it should be stellar.
·

I did not have to do any replants at all. And I covered 210 acres with the drill. The moisture and the planter overhaul made the difference. It's all growing.
·

Food plots are coming in good. Brood plots went in early and it was a little too wet which leads to a new practice of not planting until June 15. What this does is allow the residue to decompose, soil to warm up and warm season grass weeds like foxtail to emerge and get a dose of roundup before planting.
·

Milo plots look stellar. Ran half drill at 10lbs/acre and half a 20 so will make for some good bird holding spot and good walking spots across the plots. I did it to see which rate worked best but maybe we continue with this method. We'll see what you think.
·

Corn plots – New interseeding of cover crops in between corn rows which were moved out from 7.5" to 30" rows. Covers are in between on 7.5" rows. Various millets, clovers and even some milo in some. Idea here is to put in some soil building, nitrogen fixing, weed fighting covers and move off of synthetic herbicides and fertilizers. They look great right now and all have emerged well. It is possible that if this works we could do solid corn plots and these corn with covers plots and eliminate milo and brood plots. Corn is king right?
·

Neighbor's corn is 6' tall not "knee high by 4th of July". The no-till guys say "this is not a good year for no-till". The tillage guys had the good looking corn. Many many fields in area remain unplanted and will probably not be planted due to excessive spring moisture.
·

The 150 acre pollinator interseed is a success. Those fields that did not hold as many birds due to being light CRP should hold more birds all season as I feel the cover will be quite a bit heavier due to what was planted and the moisture for vegetative growth.
·

Seeing broods that hatched weeks ago and are good plyers and probably plenty of broods still hatching. Good sized broods too and plenty of bugs for them to eat.
·

The weather pattern this year is 180 degrees out from what it was last year.
·

We've got some tall grass prairie establishment east farm this year and that should help hold more birds during the season.
Posted in: News, Pheasant Outlook
---
Reader Comments
3 Comments on 2018 UGUIDE South Dakota Summer Pheasant Hunting Report
Significant hail storm (damaged roofs) and rain (3") on 27 June 15 miles north of Pierre extending E. Aberdeen NWS published satellite pics of the hail damaged crops. Another hail storm a couple days later further north. Bottom line: lots of luxuriant grass in the prairie but the hail and tons of rain couldn't have been good for pheasant chicks.

randy b July 15, 2018 12:07 PM
Would you like to comment?