South Dakota Pheasant Hunting Lease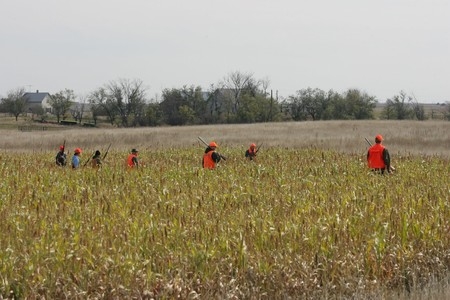 By: Chris Hitzeman
UGUIDE South Dakota Pheasant Hunting
Things to consider when planning your pheasant hunting vacation
Prior to 2001, most of my pheasant hunting experiences happened in Iowa or Minnesota. I had never even set foot in South Dakota hunting pheasants. I thought Iowa and South Dakota were comparable, but really, one cannot make the comparison if they have not experienced hunting in both states. Well little did I know that South Dakota was in a league of its own in the pheasant hunting arena. Not only that, I've since learned that there are many different ways to experience a South Dakota pheasant hunt. I now own 700 acres in the prime of South Dakota and farm a portion of it myself for pheasant habitat and rent out the rest for cash crops to a local farmer. The following is intended to help you discern the various ways YOU can experience pheasant hunting in the state of South Dakota.
Level 1 - Motels, Restaurants and Public Ground
I consider myself a "pheasant hunting sportsman". This definition has come to me over just the last couple years. Other categories of pheasant hunters might be classified as "hunters" and "shooters". In my mind, the ultimate pheasant sportsman is concerned with the game he pursues from chick to dinner table; the ultimate life-cycle of the pheasant and all that goes along with it. A pheasant shooter might be most concerned with getting a lot of shooting and getting limits. A hunter might be a dog owner that likes to see his dog perform and spend some time in the field, but outside of that, has little impact on the sport.
I'm here to tell you that level 1 is where the sportsman gets their start. I hunted this way in Iowa for 20 years. We hunted public hunting lands, road ditches, sloughs, swamps and the occasional private parcel when we could get a hold of the landowner. We would travel and hunt on weekends traveling 4-5 hours one way then stay 1 night in a motel. We would eat breakfast and dinners in cafes and diners and end up home on Sunday dead tired. We got up and went to school or work on Monday morning in recovery mode. You ended up experiencing what you would call excellent hunting and also bad hunting. The difference is in having opportunities at game vs. no opportunities. But it was our experience, our friends and family and we could say we hunted our way on our own agenda.
I recommend everyone spend time at this level. Many people that call me to book a hunt may be constrained by group size or budget and I recommend this as a great alternative to what UGUIDE offers (Level 6). Some great experiences can be had at this level but you have to put in the leg work, drive the miles and learn from trial and error.
Level 2 - Private Land, No Fees
This level and level 3 probably have the most controversy surrounding them regarding access to private lands. Much has been said and rumored about how fee hunting is having such a negative impact on the common man's ability to access quality hunting on private land. The bottom line is that farmers/landowners are always pressed to make sure they can "pay for the farm". As of late, with global economic pressures, there is not as much margin in farming operations. Habitat is expensive and the bottom line is that there is not such a thing as "free" land access. If the landowner creates habitat but doesn't charge anything for hunting, it is coming out of his pocket. In my mind this is not good only because this is not sustainable.
However, if the non-landowning public is willing to do the work of forming and maintaining relationships with landowners and understanding and helping them with the issues at hand, good land access and hunting can be had at this level.
Personally, I found it to be quite a bit of work and, at best, a crap shoot to get permission from landowners to hunt a piece of ground. We found our time best spent focusing on good public areas rather than wasting time knocking on doors and trying to find the whereabouts of an absentee landowner.
Level 3 - Private Land, Trespass Fees
My definition of this level of experience is paying a landowner who invests no special energy in regards to hunting or hunting habitat buts controls a portion of land desirable to hunters and charges a fee to trespass on his property in pursuit of that game.
You won't find these opportunities advertised in Pheasant Forever magazines because they cannot justify the expense. But you will find them in ads that are hard to find (i.e local stores, chamber of commerce, local gas stations and bars, local newspapers, free ads, etc.)
Typically these will be the lowest rates you will find as there are no assurances or guarantees as to what you might experience. You will not know how much the property has been hunted before you nor the quality of the habitat.
Again, good experiences can be had at this level but be prepared to do the work and be aware of the risks.
Level 4 - Private Land, South Dakota Pheasant Hunting Lease
At this level, the hunter gains control of the acreage for their hunting purposes exclusively for the whole season. One benefit to the landowner is that they only have to deal with one hunting party. This lowers administrative and management burdens of a more intensive pheasant business.
The advantage to the landowner is that they don't have much overhead and the advantage to the hunter is that they have an affordable way to tie up property for their exclusive hunting use. In this model, the landowner's trade-off is that they agree to give-up the hunting rights as spelled out in the lease agreement. In many cases, habitat quality can be lower at this level since income for the landowner to re-invest back into acreage is lower than at other levels.
For hunting groups that can utilize all the property and can afford the expense of tying it up for the whole season, this ends up being an affordable way to go.
Again, good experiences can be had at this level but be prepared to do the work and be aware of risks/rewards.
Level 5 - Pheasant Hunting Preserves - Releases Birds
The easiest way to describe this is similar to your local "game farm" back home where they release pen-raised birds. However, an important distinction in South Dakota hunts is that there are wild birds that do get taken on the preserves in addition to pen-raised birds.
Preserves are open from September thru March and offer 1-day, 5-day and season long licenses. License fees and hunting fees generally run less than that of a wild bird operation and limits are generally higher too. SD law mandates that preserves have to release so many birds based on total birds harvested.
Sometimes these operations hold themselves out as a "wild bird operation" and so let the buyer beware. If you are coming from out-of-state and want to hunt wild birds, you do not want to hunt a preserve. If you want a level 8 experience, don't rule it out though since many of the preserves offer fine lodging and dining and all-inclusive packages. See related article Pheasant Hunting in South Dakota
Level 6 - Self-Guided Pheasant Hunting - Wild Birds (Fair Chase)
This is what UGUIDE is all about. When I came to South Dakota I wanted to own land so that I could have an above average wild bird hunting experience through my ability to create and control above average habitat. I also enjoyed the experience of staying on the property that I hunted vs. driving all over God's creation burning up a lot of petrol. You can watch and enjoy observing wildlife in the mornings and evenings outside of hunting hours from your group's "Pheasant Camp". Level 6 is all about "Fair Chase Pheasant Hunting". Not many outfitters in South Dakota have figured out how to make this work so keep that in the back of your mind when considering options and talking to guides, outfitters and hunting lodges.
With wild birds you have to manage pressure. You have to rest ground more than it is disturbed (hunted) and you have to maintain a higher level of habitat in order to attract and hold pheasants. Not many are willing to manage to this level.
The bottom line is that UGUIDE has found a way to make it work for landowners and hunters. Hunters understand that there are costs involved in creating this type of experience producing property and are willing to help out by paying affordable reasonable fees. Landowners are willing to invest an above average amount of energy in pheasant habitat as long as they know there are hunters out there willing to help them out.
If you've ever dreamed of owning your own special pheasant hunting property and having it all to yourself, this is the next best option for you.
Level 7 - Guided Pheasant Hunting - Wild Birds
If you don't have a dog or are new to the sport but want to have a golden South Dakota pheasant hunt, then this level might be your best option. I've learned that guides and their fees pay for themselves. You haven't experienced an awesome SD pheasant hunt until you've hunted behind the top breed dogs of a top quality guide/breeder. They can make or break a hunt. If you want assurances of a good hunting experience, get to work finding a good guide. That can be the challenge right there.
A lot of hunters call me after having a "guided" experience. The issues are that of many guides. They either have to resort to running preserves or combining groups together to make the land access economics work. Land is expensive to tie up and this drives the industry to cutting corners. Again, let the buyer beware and do your homework.
There are good operations out there but you will find that these are the ones that are booked a year or more in advance.
Level 8 - Guided Pheasant Hunting - The All-Inclusive Hunt Lodge
If you're Bo Jackson or Dick Cheney and your pheasant hunting budget is $5000/day for hunting, then get out your checkbook because there are certainly operations out there geared for the celebrities and those that can afford the "Vice Presidential" treatment. Just show up with your Visa and they will provide all that you need, including airport pickup.
In summary, if you want to cut down on costs, be prepared to do the work. If you are short on time and resources and want assurances of a great pheasant hunting experience, then look to levels 4 and up. The bottom line is that whatever level you are ready for, it is here and waiting for you in South Dakota so come on out and get started. I hope you find a new tradition pursuing the wily ring-necked pheasant!
Request InformationNeed help or a recommendation?
Click here to fill out our quick form.