Navigation:
Home
> Hunting puppies, where to find them and how much to spend!!!
Hunting puppies, where to find them and how much to spend!!!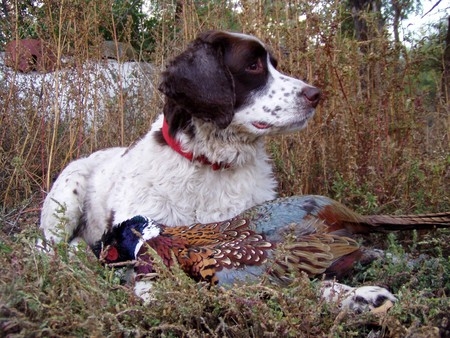 By: Mark Staloch - Norse Retrievers
for UGUIDE South Dakota Pheasant Hunting
Finding a good pup can make all the difference for years of hunting and dog enjoyment in the field
Spring is here, or so says the calendar. This seems to be the time that many people's thoughts turn to buying a puppy in hopes of having a dog to hunt with next fall. Spring just seems to be the natural time to get a little guy or girl since there seems to be more pups to choose from this time of year. There is a lot of information out there on how to choose a pup and some of it is good information. For the most part, though, what you are really looking for is a good LITTER to get a pup from. When you find a good litter, it is more a matter of choosing a boy or a girl and then just pick out the cutest one.
So then the question is, where does someone find a good litter and what is a good litter? Oh, by the way, how much is a pup from a good litter going to set me back? Well that is what I will be touching on in this article: where to find a good litter and how much should you pay to get a pup from that litter. Before we get to that, you need to ask yourself a few questions. How much of a hunting dog is this animal going to be versus how much of a pet is it going to be? Do I hunt 6 days a year or 60 days a year? What kind of hunting do I do and where? Is it strictly upland or do I do both upland and waterfowl? What do I expect out of a dog? What kind of personality do I have? Size is also an issue. These are some questions that will help you choose a breed and are things to discuss with the breeder.
There are a lot of great breeds out there and with a little research, you may just find one you didn't know about that is best suited for you and what you want to hunt. A good place to get the basic information on breeds is the AKC web site, the link to the sporting breeds is www.akc.org/breeds/sporting_group.cfm. Another place to ask questions is a quality professional trainer that specializes in the type of breed you are interested in. So if you are looking at pointers, contact a pointer trainer and ask them what type of pointer or setter would best fit you. The same goes for retrievers or spaniels. The best way to get to know a breed, make personal connections to individuals that are breeding their dogs or have firsthand knowledge of breeders is to go to dog competitions. This gives you a chance to watch dogs work and interact with people that have good dogs themselves. Spending a weekend afternoon seeing dogs at work will give you a great idea of what the dogs are meant to do and what some of the titles really mean. Field Trials and Hunt Tests take place all over the nation for all types of hunting dogs. The events can be found at www.akc.org/events/search/. Just click on Hunt Tests or Field Trails under the heading Competition Type, then click on your state and click search. This will give you a list for the year of events in your state. Click on the host club of the breed you are interested in (pointer, spaniel, or retriever) and there will be contact information to find out more about time, location, etc. When you go, be sure to where dark or earth tone clothes, DO NOT WEAR WHITE. It can distract the dogs and at a retriever event, you will be asked to cover the white clothes. Also blaze orange hats and/or shirts are needed for spaniel and pointer events. Pointer and spaniel events are mobile affairs so be prepared to walk a lot. Retriever events are such that lawn chairs should be brought with. Ask questions, as many questions as you can, maybe even take notes. Many times the clubs that put on the events have web sites where club members post their litters and the club secretary always knows good people to talk to. Her name and number will be with the event information. These people are your best resource to find a good litter to buy from. Of course there are many hunting chat web sites that have dog classifieds and they can be places to find a litter. Also surfing breeder web sites is good, but getting to know people in the dog world is the best way. Many times getting a pup from a guy that has one or two good dogs can be just as good as getting one from a large kennel. Don't be afraid of either situation. With a few exceptions I would be cautious about getting a pup from a very large kennel which has dozens of breeding females; just ask questions.
You may ask why I would encourage someone to go to a Field Trial or Hunt Test. Well when you go there, you will see the dogs, especially the pointers and spaniels, doing the exact job at a trial that you would want of them pheasant hunting. The retrievers trials are more focused on waterfowl type work, but the dog trainability and bird drive is easy to see. Even though people at retriever events train their dogs more for waterfowl skills, they hunt their dogs much more for upland. So the dogs you will see, often upland hunt a lot and many of the skills do transfer over to the pheasant field. Don't be afraid of "Field Trial" dogs. Most are much better behaved and ARE easier to train than non-field trial dogs. I have watched a lot of TV half asleep on a couch with a FC or AFC asleep on the floor below me; all were great dogs to be with.
Since I am mainly a retriever guy and the Labrador is the most popular retrieving dog, I will be using the American lab for a baseline of how much to pay for a dog. Also since labs are the most popular breed in America, they are the best value. You can get a very good dog for a reasonable price. This is not to say that the lab is the only breed and it may not be the breed for you.
Here are some guidelines to use to find a good litter.
First eliminate the junk dogs from your search.
How can you do that?
Easy, start with a set of standards.
1. Health clearances Hips, Eyes, and Elbow on both the parents 2. 26 month health contract 3. AKC registration papers, Unlimited registration should be insisted on 4. Dew Claws removed
These are four minimum standards. Some additional health clearances for heart and thyroid should be asked for in some breeds. This should get you a somewhat healthy dog.
Now if you want a puppy that has a good chance of turning into a working retriever, then you need to start looking at pedigrees.
The first thing to know is that a pedigree doesn't tell you anything unless there are performance titles on it. It is just that simple. It needs to have Field Champions and AKC, NAVDA, or UKC Hunt Test titles. These are the titles that can be researched and have the best standards.
These titles tell you exactly what skills and abilities the dogs in the pup's line have. Also because the Field Trial and the Hunt Test community is so tight knit, there are people that can tell you what kind of dog performance and personality are on the pedigree. This makes it easy to get good "third party" information on the dog in the "line" and what kind of puppy "the lines" have produced. The titles shouldn't be hidden back in the 5th or 6th generation of a pedigree; those dogs could have been dead for 25 years. Titles should be in most of the generations, but the parents are the most important. It is easier to have a titled stud than female. If the parents have been able to perform to high standards, the puppies should be just as good. Think of it this way, Archie Manning has two sons in the NFL, nobody says anything about grandpa Manning.
So back to price, $500 is about the lowest you should expect to go. That should get you a Master Hunter sired pup from a Junior Hunter female or a non-titled female with a lot of breeding behind her. The $500 will get you a black, a yellow or a chocolate if you find a great deal.
A MH or QAA sired dogs is the least you should expect to look for.
(Other breeds will cost more money than labs. I would spend a lot more money to get a good golden, chessie, or flat coat because they are harder to find. It is just the law of supply and demand.)
Color = $$$$$$
Great pedigree = $$$$$$
FC or AFC sired pup = $$$$$$
Titles over a JH on the female = $$$$$$
MH sire breed to a JH female: (MHxJH) Black $500-$550 Yellow $550-$600 Choc $600-$650
FC or AFC with a JH female: add $50 to $100+ to the high end of MHxJH
MH sire breed to SH female: add $50 to $75 to high end of MHxJH
MH sire breed to MH female: add $100 to $150 to high end of MHxJH
I would not spend over $800 for a pup sired by a Master Hunter, $800 is pretty high.
Very high end pups (most guys don't need this much dog)
FC sire breed to MH or QAA female: $1000 to $1500+
FC breed with an FC: $2500+
This should give you a way to price most breeds. The more the parents have accomplished, the more the pups should be. Make sure that the pup's parents' accomplishments relate to what you want the dog for. Why spend $1000 on a pup from a world record dock jumping dog if you want the pup to be your pheasant hunting buddy? The two things just don't relate. Somebody has put a lot of work into training and breeding for the best working traits of that breed which is why the pups are more money. They are giving you the best shot at having a healthy dog that is great in the field.
Most hunters should look for a pup that is in that $500 to $800 range. This should give you a good price range to look in for a quality puppy that will share your hunting adventures with you for the next decade. This will cause you to spend at most $80 a year over the next decade on the price of the puppy. This is less than you will spend each year on shotgun shells. The rest of the yearly costs of just keeping the dog in good health will be more than $80.
No matter how much you spend on a pup, you are buying potential. Many good young prospects have turned to junk by sitting in the kennel for months on end without interaction.
You need to make a time commitment with the animal and find a mentor to help you with training. One that really knows what they are doing to get the most out of the dog. The other option is to give the dog to a quality pro trainer which, in the long run, is not all that much money either.
With this little bit of information and a price range or $500-$800, you should be just fine. Also don't be afraid to walk away from buying a puppy if the kennel or puppies are really dirty (more than just a pile or two of fresh poo in the kennel. If a man who loves to sit in a muddy duck boat thinks it's dirty, it is.) A puppy that is alright living in filth won't mind making your living room filthy.
Good Luck!!! Mark Staloch - Norse Retrievers (Phone) 715 533-2339 (email)Stay-low51@mailcity.com
Request InformationNeed help or a recommendation?
Click here to fill out our quick form.