Hunting Dog Training Tips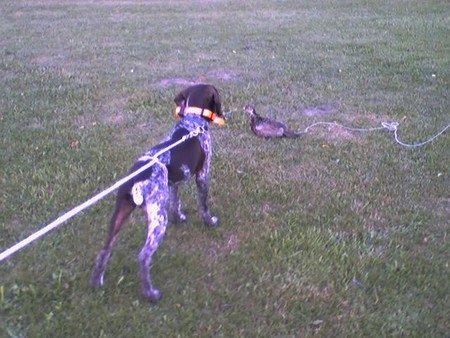 By: Russel Madison - Buckeye Shorthairs
UGUIDE South Dakota Pheasant Hunting
To Train, Or Not To Train
Early spring finds many bird dog guys asking what do I do next? These people are consumed by the thought of training their upland bird dog. There certainly are great amounts of joy that can be obtained from training your own gun dog, but extreme frustration can also be experienced if a person rushes or is uncertain of proper training techniques.
A professional trainer can often get accelerated results in even the toughest lessons. All in all there are three main questions that one must ask himself when trying to decide whether to train his own dog or call in a pro trainer: 1) What exactly do I expect to achieve, and what do I want? 2) How much time do I have available? 3) What is my skill level, and what amount of patience do I possess?
When answering the question, what exactly do I expect to accomplish, and what do I want?, one must take into consideration what the primary purpose of the dog will be. For instance, an average hunting dog (a dog who hunts about 10 - 20 days a season) will take far less preparation than a bragging rights field trialer. One must decide when he wants to begin hunting with his new bird finding machine. If a new puppy is the primary pupil, then one cannot expect a finished dog going into the first season. The bragging rights bird dog will require a few lessons that a pro trainer can deliver best. These include force fetch and remaining steady to wing and shot. Both lessons, force fetch and steady to wing and shot, can be taught by a novice, but may deliver varying results.
Once it is known what the expectations are, then one must think of time restraints in his/her daily schedule. Some lessons just take a considerable amount of time. When answering the question, How much time do I have available?, keep in mind that for best results a dog will need to be worked 15 minutes a session per day, and two or three sessions a day will prove better than one. Ideally the new puppy will be worked everyday to optimize his potential for his first season. A puppy's first season will be one of many fruitless points, and even the occasional mouse being pointed. A safe timeline for a new puppy would leave the pupil peaking in the mid portion of the second season. Most field trialers that I know will not even begin to pressure a dog until it is one year or older. At this point it is worth mentioning that when discussing time, the average trial dog will need three to four times more training than the average hunter. The trial dog will see hundreds or even thousands more repetitions in the yard than the average hunting dog thus creating the absolute broke dog.
When assessing your skill level, the biggest factor is how much patience do you have? If you are new to bird hunting and have never had a bird dog before, then it would be worthwhile to seek advice from a professional. If you are a person who is detail oriented and has spent much time in the bird fields, training a new dog should not be too difficult. Once again, even with some experience, teaching a young hopeful can try your patience. There is an old saying, "a second of lost temper will create a month of retraining". When training a pointing dog, we are only teaching manners, ie. obedience, and not teaching them to hunt. All good bird dogs know how to hunt. This is a trait that is passed down from their ancestors. There will be some lessons that will try the trainer. These can be overcome if the trainer recognizes that they need help, and seeks professional advice. A trainer must be very deliberate and control all scenarios. If a trainer pays attention to detail and reads the dog's body language, the lessons can be accelerated. If lessons are kept short and positive, you and the dog will both enjoy the lessons much more.
In conclusion, when deciding to train or not to train, one must evaluate himself first and then the dog. A novice trainer should ask himself the questions of What do I expect?, How much time do I have?, and lastly, What experience do I have as a trainer? With the help of the above information, the question to train or not to train can be answered.
Russel Madison is the owner of www.buckeyeshorthairs.com in NW Ohio. Russel breeds and trains German Shorthairs and also has a hunting guide service.
Request InformationNeed help or a recommendation?
Click here to fill out our quick form.