Pheasant Camp Lodge | Lake Andes, SD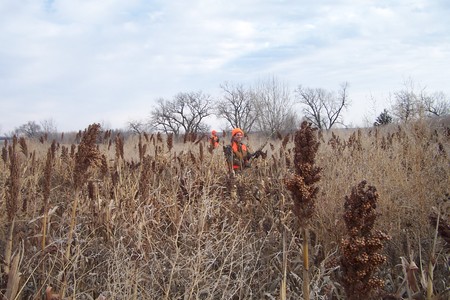 20 years in the making, the vision for the Pheasant Camp Lodge farm is complete with that last of its 700 production acres being converted to pheasant producing and sustaining CRP. The Pheasant Camp Lodge is the first and Original UGUIDE Pheasant Camp, founded in 2002, and is located 45 miles SW of Mitchell, in Charles Mix County, which borders the eastern side of the beautiful Missouri River. Experience the ultimate in pheasant hunting in South Dakota. This package offers roomy up-to-date lodging. View wildlife from the south facing view of the lodge and start your hunt by walking right out the front door. Please review links, video and testimonials below to get a great idea of what this pheasant camp is all about.
Pheasant Camp Lodge:
Hunt Package Options

3-Day Hunt - Minimum 8 Hunters and 4-Nights Lodging (Capacity 12)

This Outfitter is a Pheasants Forever Life Member
"The whole setup is one huge Man Cave!"
700 +/- Acres of exclusively private premium pheasant hunting for your group.
"Acre for acre, possibly the most optimized pheasant habitat in the state".
Began in 2002 and complete in 2023. One of the most unique pheasant hunting properties in south Dakota.
All types of cover including 600 acres of CRP in 16 blocks, 100 acres of tree belts in 12 blocks, 55,000 trees planted since 2002, 30 acres of sloughs across 3 parcels. Essentially 90% of total acres are premium high quality huntable acres.
60 acres of corn, milo and other custom food plots in 27 individual plots.
Waterfowl hunting, as conditions allow, no additional charge.
Sheltered indoor parking and grilling area (fits 6 trucks).
12X30 Insulated heated dog and gear room connected to lodge.
12X18 Bird cleaning shelter - Heated/Insulated - Hot & Cold running water - Chest Freezer.
WIFI High Speed Internet-No Charge
2 Large bathrooms w/showers.
1800 Square Foot Lodge - Sleeps 8-12 comfortably.
You can start hunting by walking out of lodge.
4 bedroom/bunk rooms.
Loft has 1 queen bed and one bunk and twin bed.
Great room - Recliners and couches for 9, bar height dining table seats 10.
Full Kitchen.
Mud room/laundry with washer/dryer.
75" HDTV DVR (Record your football game while hunting - watch later).
Views/Patio/Weber BBQ Grills(2)/Picnic Tables (2).
See links above for more details and pictures of land and lodging.
Pheasant Camp Lodge Hunting Video:
Pheasant Camp Lodge Reviews:
Best Trip Ever - My group of 9 four of us from Tennessee and 5 from Indiana hunted Uguides Pheasant Camp Lodge near Lake Andes last weekend Fri, Sat and Sun. On Fri the wind blew 40+ mph. We couldn't keep our hats on our head. The birds were super spooky but we were able to scratch out 15. Sat the wind died down and the birds held better. With that and some great shooting we limited with 27. On Sun the fat old guys were pooped but we still got 21 if we would have worked as hard as Sat we would have surely limited that day also. On the way to the airport we ran into freezing rain. I guess a good time to get back to Tennessee. 65 degrees when got off the plane on Nashville. Once my body quits hurting I will be looking forward to next year - Chip
Chris, just finished up with our group of 9 at Pheasant Camp. We really had a great time and with your work at PC and all the food plots and cover there were birds all over...Every morning when we started out right from the lodge we were able to pick up 2 or 3 birds within 20 min.s hunting. You have done a great job with the land management....Love those food plots. Was teasing the brother-n-law that you had put speakers out in the roosting areas, til we watched the birds fly in and out of them. Great job....planning on going back next year. - Paul - IN (Week 4 - 2013 Season)
Shot 15 on Friday, 21 on Saturday, and 11 on Sunday (hunted till 2:00). It's a nice piece of property and a really nice bird cleaning set up. - Dan - Minnesota
Chris - The guys from last year all agree that Pheasant Camp is our place to hunt from now on. As Milo told you before, we have been looking for a place to do a pheasant hunt every year and we have found that place at Pheasant Camp. Thanks for the good hunt and feel free to use me as a reference anytime. Milo and I plan to do this hunt until we cant walk anymore and then we hope our sons will take us. I had my oldest son with me this year and plan to take both sons next year. Milo plans to do the same with his two boys. I can tell you that the second week at pheasant camp will be booked by us for a long, long time. The accommodations were perfect, nothing needs to be added. The hunt was good also. All in all, it was a huge improvement over last year. Thanks again, - Tom - Alabama
Hi Chris - We did pretty well. There were nine hunters including the two kids and we shot 27 (limit) on both Friday and Saturday and 6 on Sunday when we only hunted until noon. We shot a total 60 birds for the entire weekend and everyone seemed happy so I would call it a success. Thanks - Patrick - Iowa
"Chris, My hunting party and I had a wonderful time at your property southwest of Mitchell, SD. The lodge was everything you had said and more. The facility was roomy and we all felt very comfortable and at home. The hosts were hospitable and were very helpful with the layout of the farms. My group limited out two of the three days and should have shot our limit all three days. We saw several hundred birds each day with all types of hunting conditions. All six people from my hunting party will be back to hunt with you again next year. Thank you for a superb hunt." - Jim - Newburgh, IN
Request InformationNeed help or a recommendation?
Click here to fill out our quick form.