Navigation:
Home
> Wolf Creek South Dakota Pheasant Hunting | Miller, SD
Wolf Creek South Dakota Pheasant Hunting | Miller, SD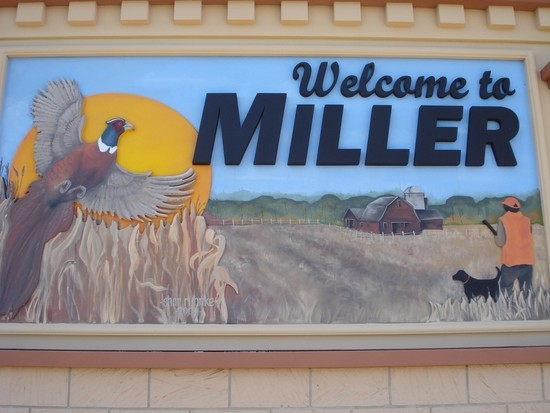 If South Dakota is the pheasant capital of the world then it could be argued that Miller is the pheasant capital of South Dakota. The Wolf Creek Pheasant Camp is located in Miller SD, in Hand County, in east central South Dakota. Experience the ultimate pheasant hunting in South Dakota. This package offers an abundance of private exclusive hunting acreage and first class private lodging. Please review links, video and testimonials below to get a great idea of what this pheasant camp is all about.
Informative Links:
Lodging * Hunting Land * Location Map * Local Weather * Availability * Tourism Activites
Wolf Creek Pheasant Camp:

4000 +/- Acres of exclusively private premium pheasant hunting for your group.
All types of cover including 160 acres of CRP Grass, 30 acres of tree belts, 100 acres of milo food plots , 100 acres of sloughs across 3 blocks, and 300 acres of creekbeds.
Excellent waterfowl hunting. No additional charge. Many sloughs to hunt.
Garage
Bird cleaning area - Freezer for birds
2.5 bathrooms
2000 Square Foot Lodge - Sleeps 6 - 12
4 bedrooms ( 3 sets of bunk beds and 6 extra long twin beds)
Great room
Full Kitchen
Mud room/laundry
Dogs: Can be kept in outside kennels or in garage in your carrier kennels or in house with $300 damage deposit
55" Satellite TV, DVD, Internet
Views - Patio - BBQ Grill
Wolf Creek Hunting Video:
Wolf Creek Pheasant Camp Reviews:
"Chris the hunting was unbelievable and and family (owners) did a great job. Thanks" Keith, North Carolina
"Chris, I was on a hunt that our company booked in Miller at the wolf creek camp. It was excellent and we got all our birds despite the 50 plus mph winds. It was the best of the previous hunts by far. Thanks" Mark, Minnesota
"Great trip Chris! Thanks for your help on this." Kevin, Minnesota
"Hi Chris we will be interested since it will be the family again for the week of thanksgiving. we had a great time and want to do it again." Ty, Colorado
"Thanks for all your help. We had a great time this year, and we will be signing up for next year again. I'll take care of the deposit in the next couple days". Don, Michigan
"Hey Chris. The hunters did not ask for me today so it was just Friday and Saturday that I guided. Went well, got their limits both days so they were happy I believe. Birds are starting to get very WILD!! Take care." Corey, Armour South Dakota
"By the way - Wolf Creek and all it is was terrific. The owners were great, the house just right and the hunting very good." John, New Jersey
Request InformationNeed help or a recommendation?
Click here to fill out our quick form.