Meadow Creek South Dakota Pheasant Hunting | Meadow, SD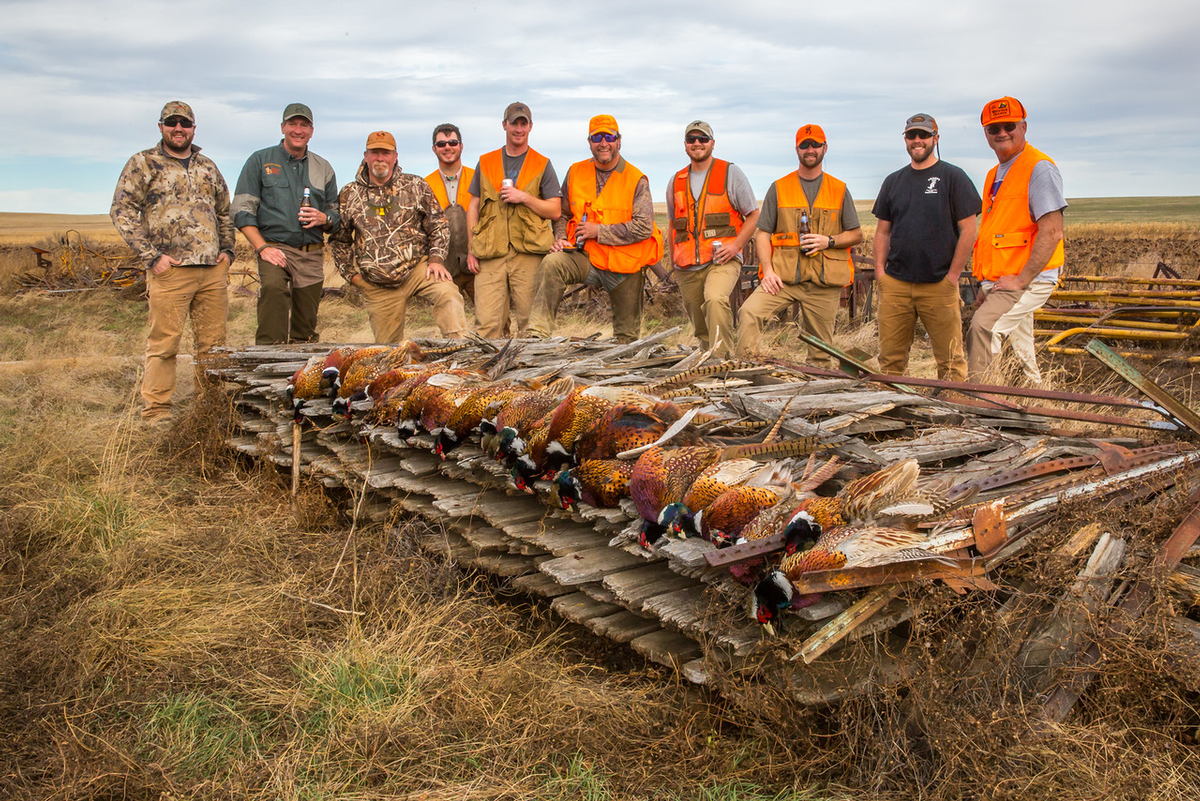 If you are looking to hunt in a remote area of South Dakota that boasts abundant populations of Ringneck Pheasants, Sharptail Grouse and Hungarian Partridge then look no further. Meadow Creek Pheasant Camp is located near Lemmon in northwest South Dakota, just south of the 155,000 acre Grand River National Grassland. This camp offers private secluded lodging in an area that has recently installed 100's of acres of CP-38 SAFE CRP. If you are looking for sun up to sun down hunting opportunities then this is your place. Daily limits of Ringneck Pheasant, Sharptail Grouse and Hungarian Partridge are 3, 3 and 5 respectively. Possession limits are all 15 for each species. Please review links, video and testimonials below to get a great idea of what this pheasant camp is all about.
Meadow Creek Pheasant Camp:
2 Hunt Package Options
3700 +/- Acres total. Abundance of all different types of CRP, crops and food plots for prime pheasant hunts. Read more on the Hunting and Land Photos Page (Link above)

1230 acres of CRP
130 acres of food plots, 29 total plots
315 Cropland acres of milo/millet
50 acres of dam/slough/creekbed
60 Creekbed acres
1000 acres of hayed/grazed pasture (can find grouse or huns here)

20 minutes south of Lemmon South Dakota - Perkins County
Group sizes up to 12
Abundant multi-species upland birds, abundant acreage, high in privacy and seclusion.
On site lodge located in the middle of the hunting property.
Sleeping 12 hunters, 2 Bathrooms/Showers/Toilets, all linens/towels/washclothes provided
Sink, Stove and Fridge and compliment of cooking amenities
Dining table, chairs, couches
HDTV Satellite TV
WIFI
Heated sheltered bird cleaning and dog kenneling building
Gas BBQ Grill
Vehicle available for your use - 1997 Chevy Tahoe - Replace fuel you use
Meadow Creek Hunting Videos (GoPro & Camcorder)
Meadow Creek Pheasant Camp Reviews:
"Hello Chris, I wanted to follow up with our results for Meadow Creek week 5. The property was far better than we could have expected. The habitat and number of birds was just fantastic. With the abundant pheasants, sharp-tailed grouse, and huns, there was no shortage of hunting. The entire group spent all day hunting until almost sunset each day. On two or three occasions we flushed all three groups of birds at once. What a sight to see, it sure made deciding what shot to take an interesting challenge. The accommodations were very comfortable and complete. This made the evenings enjoyable sitting around talking about the day's hunt and the next day's plan. I especially liked the solitude of the location being far from other residences and general population. Our host was great and spent a couple evening with us to get to know us. He and his family are doing an unbelievable job of creating a special place to hunt by managing the property to improve habitat while creating variety to appeal to different styles of hunting. I can't say enough about their hard work and dedication to making the property special. Thank you for the opportunity to hunt this property. We intend on reserving the property again for next year." Mike - OR
"Chris, we had a great time out at Meadow Creek this past weekend. Great mixed bag hunt. The new CRP is thick and holds tons of birds. The new food plots make for some fun areas of concentrated birds. We had a great time hunting and pushing the food plots and surrounding areas, as well as hunting the edges of some of the bigger CRP fields. The owners have really done an awesome job with the habitat. I am sure that it will keep getting better as the grasses come in and provide the winter shelter and nesting habitat. It is a very cool place and the bird numbers this year, all 3 species, are very high. Fun just to watch them all jockey around. The owners are clearly very engaged and motivated. Bunk houses are very nice." Jeff - WI
"Great hunt great camp. Huge improvements to this camp this year! Had the time of our lives" Steve - CA
"There are not many places in South Dakota where you can limit on Sharptail Grouse in one walk or shoot Sharptail, Hungarians and Ringnecks all on the same day. Meadow Creek is one of them. The unique landscape and habitat management certainly lends itself to multiple upland species. The lodging, bird cleaning and dog accomodations are just what the doctor ordered when it comes to self guided pheasant hunting. All that a group could want". Chris - MN
Request InformationNeed help or a recommendation?
Click here to fill out our quick form.